Editorials
New York Islanders vs Tampa Bay Lightning Exemplifies Need For Playoff Change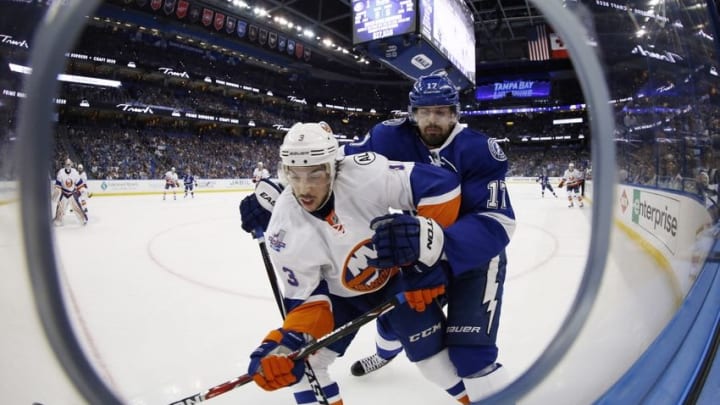 Apr 27, 2016; Tampa, FL, USA; New York Islanders defenseman Travis Hamonic (3) and Tampa Bay Lightning center Alex Killorn (17) fight to control the puck on the boards during the first period in game one of the second round of the 2016 Stanley Cup Playoffs at Amalie Arena. Mandatory Credit: Kim Klement-USA TODAY Sports /
With the New York Islanders heading into game 2 with a 1-0 lead over the higher seeded Lightning, is it time for the NHL to consider a playoff formatting change? 
The New York Islanders have been systematically robbed of their good performance this year by a corrupt NHL playoff system. To increase TV ratings, the NHL has chosen to forgo a fair playoff system. In the NHL, the league has made it so that at least three division teams make the playoffs while two wild card teams also enter in. The three division teams are ranked 1 through 3 in their respective quarters of the bracket with the two wild card teams being given a spot against the one seeds. This seems perfectly fine in theory until someone asks the question, "What if a wild card team is better than a division winner?"
…they seem to be either woefully unaware or ignorant of their problem.
This past season the New York Islanders have been that better wild card team. They recorded 100 points while the Tampa Bay Lightning achieved only 97. By the numbers, the Islanders had a better record (45-27-10) than the Lightning (46-31-5). However, due to the confusing, unfair, and arguably corrupt reality of the playoff system, the Lightning have been rewarded home-ice advantage for this series due to the fact they were a division team in the weaker Atlantic Division while the Islanders were a wild card team out of the stronger Metropolitan division.
There are those who say that home ice doesn't matter, and I would say that couldn't be more incorrect. Of the teams that made the playoffs this year, only two (San Jose and St. Louis) had worse away records than home records. So again the question must be asked, "How is this allowed to happen?" If you asked the NHL they may say something along the lines of "it shouldn't,".
Next: Barclay's Center Is Tavares' House Now
On the NHL's website, they seem to be either woefully unaware or ignorant of their problem. They claim that "Home-ice advantage through the first two rounds goes to the team that placed higher in the regular-season standings."
This, clearly, has not been the case this year. Although the Islanders placed better in the regular season, they have been robbed of their effort while seeing another team rewarded for their comparative mediocrity. If the NHL's true focus is expanding its popularity, it needs to fix its unfair and unbalanced playoff system immediately.