New York Islanders Daily Link: Lessons to Learn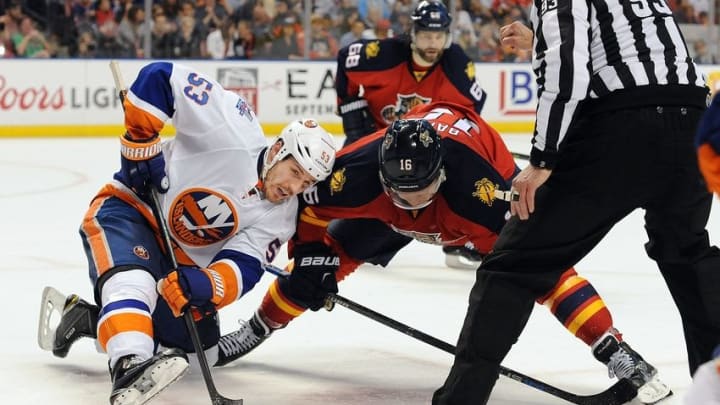 Apr 22, 2016; Sunrise, FL, USA; New York Islanders center Casey Cizikas (53) wins a face-off against Florida Panthers center Aleksander Barkov (16) during second period action in game five of the first round of the 2016 Stanley Cup Playoffs at BB&T Center. Mandatory Credit: Robert Duyos-USA TODAY Sports /
A tour of New York Islanders news from around the web. What do you need to know as an Islanders fan, brought to you daily first thing in the morning!
After the Pittsburgh Penguins won their second Stanley Cup since 2009 everybody is racing to try and figure out how they did it. The New York post is no different. It takes five lessons from the Penguins championship run and applies it to the Islanders and Rangers.
Some of these are good points, while others are just straight observations. Take point number three: "Every Team has Bad Contracts"
Of course, they do. By having 30 players on the roster the law of averages dictates that at least one of those contracts are going to be bad. The NY Post points to the Islanders recent $16.75 million deal with center Casey Cizikas as an example.
The Cizikas deal looks to be a poor one going forward. But to be fair, Cizikas has yet to play a game with this new deal under his belt. Perhaps judgment on the contract should wait until we've seen not only Cizikas perform under it, but also how the Islanders utilize their new $3.35 million dollar man.
A great point for the Islanders to heed is: "Great Players Still Need Help".
Just like Crosby, Tavares needs a linemate that can help him excel. Without the proper supporting cast, we may be seeing Tavares' best year unfulfilled. Free agency has a number of great players that could form a complimentary partnership with Tavares.
The Isles can't just plug-and-play with elements in their system already and hope it works with Tavares. They've tried that already and it has yet to work.
Have an Isles post you want to share? Send your links through twitter to @eyesonislesFS using #MyIsles
Today's Slapshot takes a look at the potential of Milan Lucic becoming an Islander and say "Yeah" or "Nay" on the potential deal. (Today's Slapshot)
Here's what we thought about the Lucic rumors. In case you were interested to know. (Eyes on Isles)
Lighthouse Hockey continues their Islanders Top 25, Under 25 with a look at Connor Wotherspoon. (Lighthouse Hockey)
Next: Isles at 30-1 Odds for Cup Next Year
Sportige has a list of the teams with the most Stanley Cups and the Isles are on the list. We aren't Montréal, but it;s nice to be part of elite Cup company. (Sportige)