New York Islanders: Can Joe Colborne Be A Fit?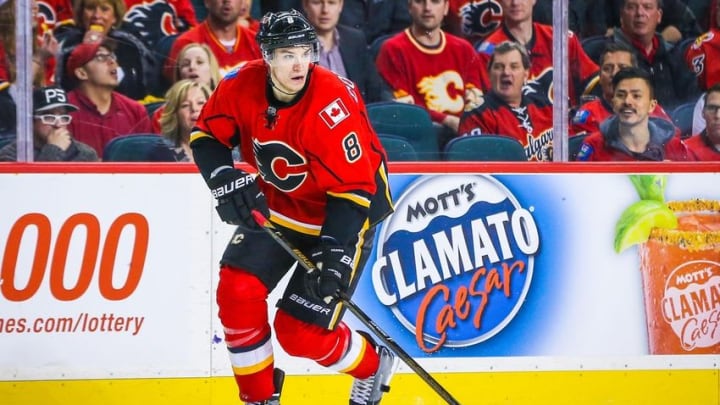 Mar 9, 2016; Calgary, Alberta, CAN; Calgary Flames center Joe Colborne (8) controls the puck against the Nashville Predators during the second period at Scotiabank Saddledome. Calgary Flames won 3-2. Mandatory Credit: Sergei Belski-USA TODAY Sports /
The Calgary Flames did not offer the soon to be free agent, Joe Colborne a qualifying offer. After coming off a career season could he be a fit with the Islanders?
Joe Colborne interested me because he is not a name that was being associated with the Islanders. There's been a lot of talks about having to replace Kyle Okposo, Matt Martin and possibly Frans Nielsen. We've heard names like Milan Lucic, Steven Stamkos and even David Backes float around.
I don't see Colborne being "the guy" in free agency but it would be a nice depth move. Similar to if the Islanders added Lee Stempniak. Colborne is coming off of a career year with the Flames with 19 goals and 25 assists (44 points).
Since Calgary GM Brad Treliving did not offer Colborne a qualifying offer there has been rumors of him leaving Calgary. There's absolutely as good a chance of Colborne going back to Calgary as there is of him hitting the open market, but for argument sake lets say he hits the open market.
Age Is A Factor
Joe Colborne is still young. He's just 26 years old as opposed to other free agent targets like Lucic, Backes or even Frans Nielsen who are much older. I'd be more willing to take a chance on a younger player coming off of a good year than having to give an older player more a contract with more years.
The question of inconsistency comes up with Colborne. Although he is versatile, he can play either wing or even center and with his 6'5″ 220 lbs frame he can certainly be a power forward. Late in the season with Calgary he was given a bigger role and the production was there.
A Relatively Cheap Option
He would be a cheaper option as well. He was just a $1.275 million cap hit last year, and he is expected to be in the neighborhood of $3.5 million a year with his next contract. That's a more affordable option for the Islanders to replace Kyle Okposo and if necessary Nielsen as well.
He's somewhat similar to Anders Lee in size and production but there is one major difference. He doesn't take the amount of penalties that Lee does. Colborne served 27 minutes last year in the sin bin as opposed to Lee who nearly doubled that with 51 minutes of penalty time.
Next: Lee Stempniak Could Provide Depth
I think Colborne can be a productive second liner. Although the main need is for a first line winger the Islanders will have to replace second liners as well. A Colborne signing would be a nice depth move but not nearly enough of a move for me to be satisfied with Garth Snow.