New York Islanders Daily Links: Ledecky Still Talk Of The Town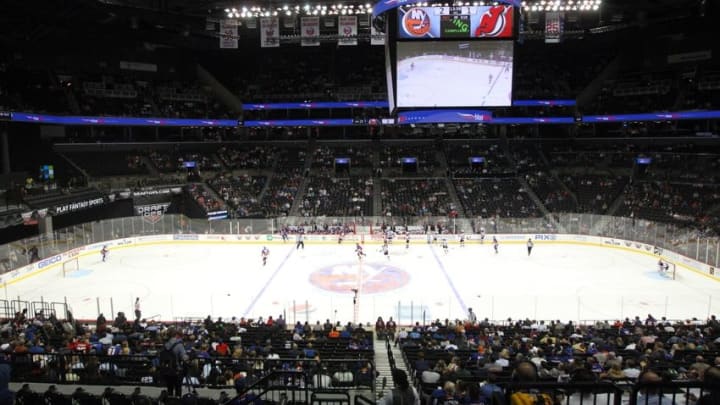 Sep 23, 2015; Brooklyn, NY, USA; General view of the ice during the third period between the New York Islanders and the New Jersey Devils at Barclays Center. Mandatory Credit: Brad Penner-USA TODAY Sports /
A look around the web at the most recent New York Islanders news. Make Eyes On Isles your go to website for all things Islanders.
It's becoming the dog days of summer and not a lot is going on. Free agency has quieted but at least for the Islanders and their fans they have new owners to talk about. John Ledecky's impressive town hall is still the talk around the town.
Dave Holcomb writes that Ledecky has the Islanders going in the right direction. For once the Islanders have money to spend in free agency. Whether you like the moves in free agency or not it was nice to see the Islanders trying at least.
The lack of a plan to get the Islanders to Nassau County again, may rub some fans the wrong way. Although there are many more positive things that Ledecky has talked about that should take your mind off of it.
The Islanders are a team that will be right around the salary cap limit instead of a team that is on a budget. The Islanders have owners who have money and winning is a priority, it's hard to be mad at them.
Have an Islanders link you want to share? Tweet it to @EyesOnIslesFS with #MyIsles to be featured in our daily links.
Islanders owner wants to restore greatness to the team and bring them back to their winning ways again. (SNY)
One of our writers took a crack at dissecting the Ledecky meeting. (Eyes On Isles)
Is Garth Snow preparing for the expansion draft already? A valuable question that seems to be on the minds of many as the Islanders may have issues protecting players in the draft. (Islanders Insight)
In more Ledecky news he will be cheering on his niece in the Olympics, which are being held in Rio. She's a swimmer (NBC Olympics)