New York Islanders: Expectations For Chimera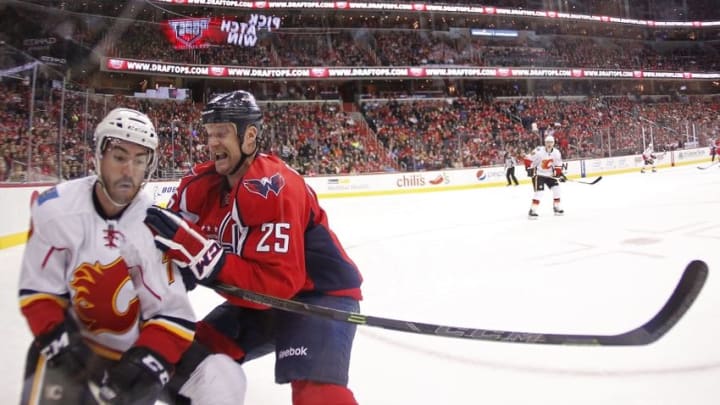 Nov 13, 2015; Washington, DC, USA; Washington Capitals left wing Jason Chimera (25) checks Calgary Flames defenseman T.J. Brodie (7) while battling for the puck in the second period at Verizon Center. The Flames won 3-2 in overtime. Mandatory Credit: Geoff Burke-USA TODAY Sports /
The New York Islanders tried to add depth on the 4th line by bringing in Jason Chimera. Here's what the Islanders can expect to get out of him.
Jason Chimera is 37 years old, which is like a dinosaur in the NHL. Although don't tell Jaromir Jagr that. Even at his older age the Islanders can certainly expect to see him produce at a level where he would be a positive impact on this team.
Chimera is coming off of a 40 point season. That would've tied him for fourth highest on the Islanders if he was on the team last year. The guy that he's replacing is Matt Martin who is coming off a 19 point season.
That's not a knock on Martin, I liked his game here with the Islanders and I think that he has value to a team. You also have to keep in mind the off the ice stuff that makes Martin a fan favorite with the community.
Overall on the ice, I think Chimera is an upgrade and he is a cheaper option than Matt Martin is. He's a 4th liner who can also score, similar in a way to Cal Clutterbuck. I think sharing a line with Casey Cizikas and Cal Clutterbuck will allow Chimera to produce offensively.
Expecting another 40 point season may be a stretch. I expect him to have around 15 goals and 15 assists which would put him at 30 points, an 11 point upgrade over Matt Martin.
The most glaring difference though is not points. Look at their penalty minutes from last year, Martin served 119 minutes in the box. Jason Chimera, just 22 minutes in the sin bin. An almost 100 minute difference.
Lets also not forget this goal from the 2016 playoffs. I bet Steve Mason wanted that one back.
Overall Chimera just adds more scoring depth to this team, my expectations for him is to add slightly more speed to that 4th line as well. The Islanders had the best 4th line in hockey with Matt Martin and you can make the argument that it improved.
It's also worth noting that Chimera is a known Rangers killer.
Next: Islanders Will Let Pulock Grow
It'll be weird not seeing Matt Martin out there on the ice mashing people, but I think Islanders fans will soon be happy when they see Chimera hit the ice and find the back of the net a few times.