New York Islanders Daily: Barclays Center Updates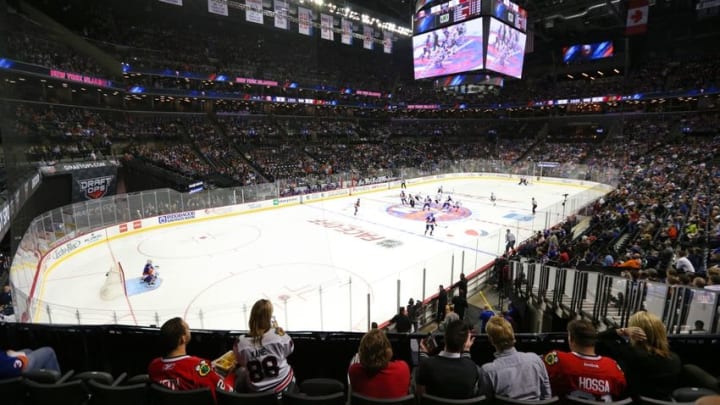 Oct 9, 2015; Brooklyn, NY, USA; General view of opening tip off during the first period between the New York Islanders and the Chicago Blackhawks at Barclays Center. Mandatory Credit: Brad Penner-USA TODAY Sports /
A look around the web at the most recent New York Islanders news. Make Eyes On Isles your go to website for all things Islanders.
One of the new owners of the New York Islanders, Jon Ledecky says that he is planning on improving the Barclays Center. He says it's the Islanders home for years to come. Mark Herrmann had more on the story.
It's been the summer of Jon Ledecky. Everything that comes out of his mouth is pure gold. Ledecky has won over the fans with his strong words and desire to win.
Like this for example "Right now, I'm focused on one thing and that's getting the fifth ring for our fan base. That's the most important thing."
He says he plans on having the Barc be home for years to come. That may be one thing the fans disagree on, but he as long as he brings the Islanders a fifth ring I don't think the discussion of where they play will matter all too much.
Have an Islanders link you want to share? Tweet it to @EyesOnIslesFS with #MyIsles to be featured in our daily links.
How discipline became a learning experience for Islanders prospect Josh Ho-Sang (Eyes On Isles)
How the difficult level of competition in the Metropolitan Division makes it a tougher time for the Islanders come playoff time (Eyes On Isles)
Isles Tweet Of The Day