New York Islanders Longest Serving Members in Franchise History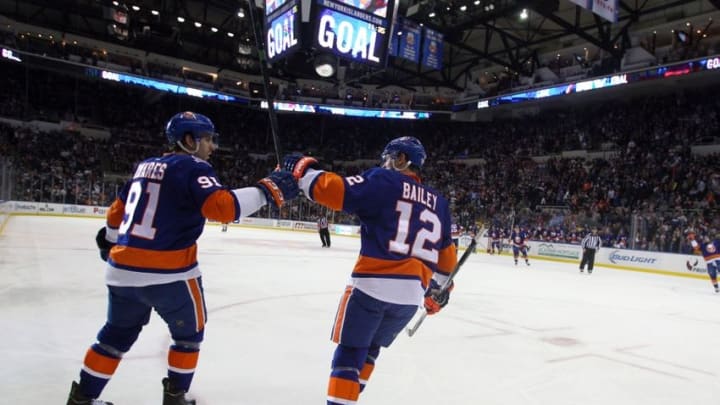 Jan 29, 2015; Uniondale, NY, USA; New York Islanders center John Tavares (91) celebrates his goal against the Boston Bruins with New York Islanders left wing Josh Bailey (12) during the second period at Nassau Veterans Memorial Coliseum. Mandatory Credit: Brad Penner-USA TODAY Sports /
Jan 29, 2015; Uniondale, NY, USA; New York Islanders center John Tavares (91) celebrates his goal against the Boston Bruins with New York Islanders left wing Josh Bailey (12) during the second period at Nassau Veterans Memorial Coliseum. Mandatory Credit: Brad Penner-USA TODAY Sports /
Honorable Mentions
Our current roster is still fairly young, but there are two from our current roster and one who just left in free agency that aren't and weren't too far out of the top 10 picture for most appearances.
Too bad that one free agent left, he wasn't too far out.
Frans Nielsen (606 Appearances, 13th)
Frans was drafted by the New York Islanders in the 3rd round in the 2002 NHL entry draft. It took a while for Frans to make his way to the NHL, making his debut in 2006-07. Frans proved to be an invaluable cog in the Islanders machine.
Playing a full 200-foot game, Nielsen excelled at every aspect of the game. Power-play, penalty-kill, 5-on-5, Nielsen could to it all. Which ensured he couldn't be left off the roster.
In his ten seasons with the Islanders, Nielsen would make 606 appearances. Good enough for 13th in the list. Just outside of the scope of our celebrations. Sorry Frans.
Josh Bailey (557 Appearances, 17th)
Yup Josh Bailey made the list, sorta. He's been around for what feels like forever, and for good reason. Because he actually has. Drafted by the Isles in 2008, Bailey has played full seasons ever since.
It can be said that his 9th overall status isn't at all justified based on his production. But Bailey is a good depth forward.
He's still only 26 years-old and has a ton of hockey left. He's going to move up this list. Like it or not.
John Tavares (510 Appearances, 26th)
What list isn't complete without John Tavares? His talents deserve to be constantly celebrated. But on this list, Tavares only gets an honorable mention.
His appearance count would be higher if he didn't suffer that terrible injury representing Team Canada at the Olympics in Sochi. But, like Bailey, Tavares is still young at 25.
Barring another injury Tavares will climb this list quickly. Heck another 70 games will have him leapfrog players like: Pat Lafontaine, Kyle Okposo, and Tomas Jonsson.
Next: No.10 Derek King