New York Islanders Longest Serving Members in Franchise History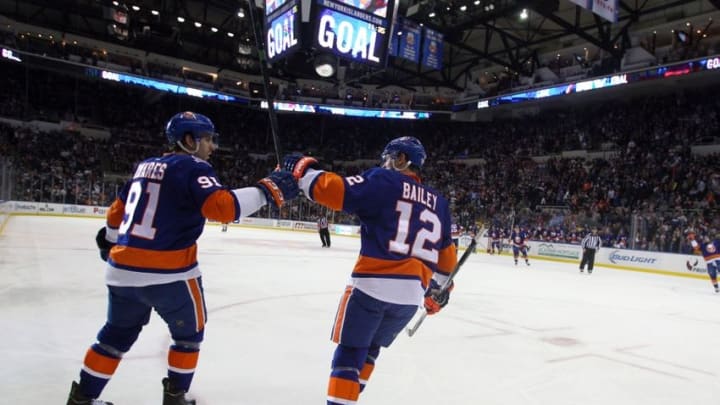 Jan 29, 2015; Uniondale, NY, USA; New York Islanders center John Tavares (91) celebrates his goal against the Boston Bruins with New York Islanders left wing Josh Bailey (12) during the second period at Nassau Veterans Memorial Coliseum. Mandatory Credit: Brad Penner-USA TODAY Sports /
Nov 22, 2014; Uniondale, NY, USA; Former New York Islanders goaltender Billy Smith (R) leads the players onto the ice prior to the Islanders /
Billy Smith
Appearances: 675, 9th
Draft: 59th, 1970 (Los Angeles) Status: Hall of Fame
Record: 304-230-104
Billy Smith wasn't drafted by the Islanders. Well, he sort of was. We picked up Billy Smith with our second pick in the 1972 expansion draft when our franchise was first stocked with players.
Billy was an unproven commodity at that point, only playing five games for the Los Angeles Kings before we took him. But looking back, what a steal it was to get Smith through expansion.
Smith's first season in New York was awful. He won just seven of his 37 starts. But the tables would soon turn. By 1981 Smith was being showered in awards. Winning the Vezina in 1981-82, the Jennings and Smythe trophy in 1982-83.
And more importantly four back to back Stanley Cups from 1980 to 1983.
Smith is also the first goalie to score a goal. He didn't exactly shoot th puck down the length of the ice like Hextall did, but he was the last player to touch it so +1 in the goal column for Smith.
But Smith's history isn't all glamorous. There was that time that he almost cut Wayne Gretzky in two with his goalie stick.
Not everyone is clean. But Billy was a hell of a laborer for the Islanders. Not shy do get his hands dirty if it gave his team the W. And he deserves to be on this list. Sorry Wayne, but all's fair in love in war right…right?
Next: No.8 Brent Sutter