Home
/
International Tournaments
New York Islanders Tavares vs. Team USA: Live Thread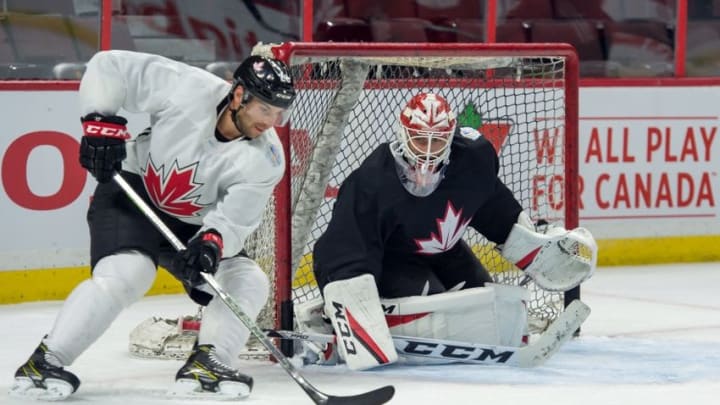 Sep 5, 2016; Ottawa, ON, Canada; Canada goalie Braden Holtby makes a save on a shot from John Tavares during practice for the World Cup of Hockey at Canadian Tire Centre. Mandatory Credit: Marc DesRosiers-USA TODAY Sports /
New York Islanders captain John Tavares and Team Canada get their first taste of the team that was designed to beat them. We'll see if Team USA can live up to their billing.
The single thought on Team USA's GM Dean Lombardi was "beat Canada". This thought was so prevalent that he built his squad to beat New York Islanders John Tavares and his Canadian cohorts.
I guess Phil Kessel and Kyle Okposo just don't know how to beat Canadians. Or maybe Justin Abdelkader is the key to beating Canada's talent-laden squad.
Lombardi's justification for his contentious squad selections were: "It made it essential that you do all your research in terms of not only the quality of the player and his ability but their history of being a good teammate and things like that"
"[…] and things like that." Not always the most confident sounding way to close off an answer.
Team USA Has Game
Team USA has quality thought and just might be able to get a one up on the 10/11 favorites to win the tournament. The top three of Kane, Pavelski, and Parise have an elite level offensive resumé.
Kane won the scoring race last season with an incredible 106 point season. Seventeen points above the next leading scorer.
The defense looks just as good with the like of Ryan Sutter, Dustin Byfuglien, and Ryan McDonaugh. Again, the US has quality throughout this roster.
But are the sum of their parts to beat that Canadian team with Tavares, Crosby, Stamkos, Weber, Doughty, etc…? They just might. The Canadians have some significant firepower, but that blueline isn't as dynamic as it could be.
The Canadians played it safe, as they usually do. The risks that Lombardi took in assembling his squad just might score that decisive blow against the Canadians.
Next: An Open Letter to John Tortorella
Looking for a forum to discuss this clash of titans? Or what about an avenue to ask: "What happens if Team North America wins it all? Who gets the credit?" Get in on the comments section below and join the discussion!