Home
/
International Tournaments
World Cup of Hockey Canada vs. USA: Time, Channel, and more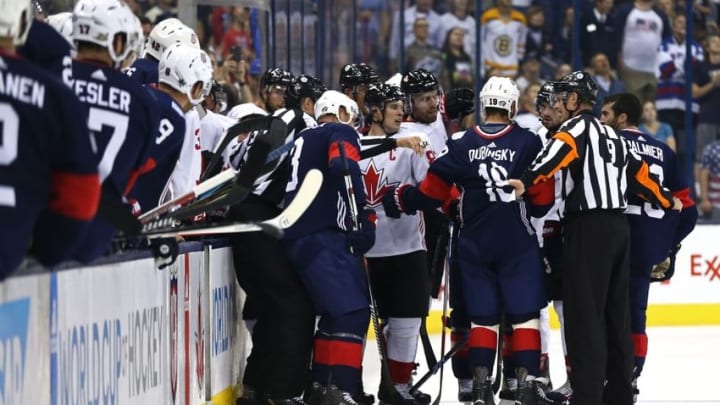 Sep 9, 2016; Columbus, OH, USA; Team Canada forward Sidney Crosby (87), middle, is separated from Team USA forward Brandon Dubinsky (19) in the first period during a World Cup of Hockey pre-tournament game at Nationwide Arena. Mandatory Credit: Aaron Doster-USA TODAY Sports /
The World Cup of Hockey resumes with Team Canada looking to get back to winning ways against Team USA. It's the second time these two rivals meet in the same number of days. Expect tired legs and tired attitudes.
For a second time in two days, Team Canada takes on Team USA. This time, Canada is the home team, welcoming the John Tortorella's boys to the nation's capital in Ottawa, Ontario.
In the first meeting, the USA roughed up Canada and really got under the Canucks skin. The strategy seemed to work as Canada dictated the terms of play with 43 to 25 shots. But the US ran away with a 4-2 win.
Yesterday's game in Columbus was the first competitive fixture these players have seen since the NHL season. Commentators at ice-level routinely spoke about how the players looked a little flush in the face after shifts.
With back-to-back games on back-to-back nights, players conditioning on both sides are going to be put to the absolute test. Expect short shifts and shorter tempers.
Tempers were already short in the first encounter, but with tired mind and legs as both teams had to travel the 658.5 miles from Columbus, Ohio to Ottawa, Ontario. Thirty-one penalty minutes were dished out over the course of that last game.
Guys are going to take some lazy penalties as energy level drop and as the game progresses. Oh, and maybe a little bit of retribution on the behalf of the Canadians, thanks to that late hit by Ryan Kesler.
Next: Expectations for John Tavares Next Season
Game Details:
Date: Saturday, September 10th
Start Time: 7:00 p.m. ET
Location: Ottawa, Canada
Venue: Canadian Tire Centre
TV: ESPN3 (US), Sportsnet & TVA Sports (Canada)
Live Stream: WatchESPN
This will be the last time these teams face each other until round-robin play on September 20th. Both sides are going to want to set the tone for the next meeting when a place in the semis is potentially up for grabs.