New York Islanders Roundtable: The Isles Need Fixin'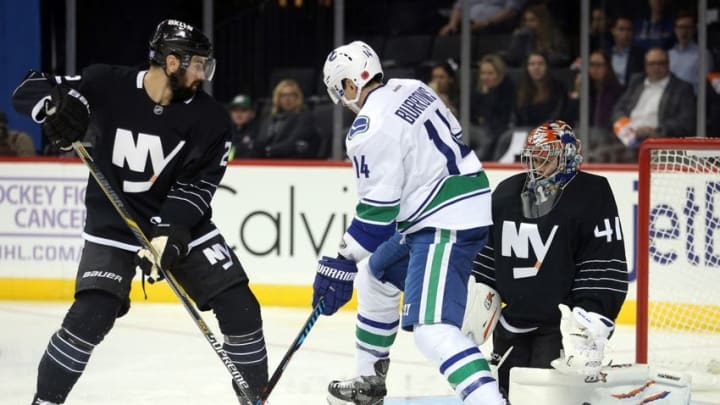 Nov 7, 2016; Brooklyn, NY, USA; New York Islanders goalie Jaroslav Halak (41) makes a save in front of Vancouver Canucks left wing Alex Burrows (14) and New York Islanders defenseman Nick Leddy (2) during the first period at Barclays Center. Mandatory Credit: Brad Penner-USA TODAY Sports /
Apr 4, 2015; Uniondale, NY, USA; Buffalo Sabres goalie Andrey Makarov (1) looks back on a missed save shot by New York Islanders right wing Kyle Okposo (21) (not shown) during the first period at Nassau Veterans Memorial Coliseum. Mandatory Credit: Anthony Gruppuso-USA TODAY Sports /
Matt O'Leary
The Islanders have a lot of problems. Part of the reason for their slow start is due to the woeful power play, the struggling penalty kill, but the most glaring issue is the forwards. The Isles have actually gotten good offensive production from their defenseman, it's their forwards that have been the issue.
It took the two biggest free agent acquisitions, Jason Chimera and Andrew Ladd until game 13 to finally score their first goals as Islanders. They aren't getting enough production from their highest paid players.
Excluding John Tavares, the Islanders highest paid forwards are Andrew Ladd, Mikhail Grabovski, Nikolai Kulemin and Anders Lee. Those four players have combined for 3 goals and 5 assists (8 points).
The point is they aren't getting the necessary production for what they are paying their players. Granted Grabo's hurt, but he hasn't given you much offensively when healthy. Kulemin is a good defender but gives you little offensively. Lee has shown no signs of growth since his breakout rookie season and Ladd finally got on the board with a goal 13 games in.
It's frustrating when you see players like Nikita Kucherov signed to a contract with a cap hit under $5 million a year.
The Islanders need to address their forwards either internally, meaning giving Joshua Ho-Sang and or Michael Dal Colle a shot or externally by pulling the trigger on a trade. The Metropolitan Division looks like it's going to be an extremely competitive division this year. If the Isles want to compete for a playoff spot they need to address the offense, and more specifically forward production.