New York Islanders Roundtable: The Isles Need Fixin'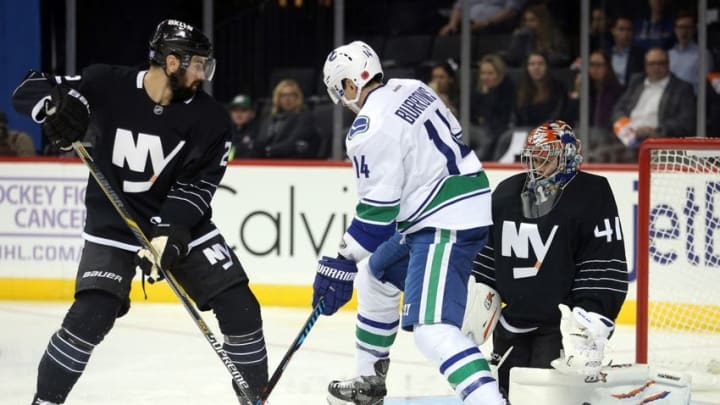 Nov 7, 2016; Brooklyn, NY, USA; New York Islanders goalie Jaroslav Halak (41) makes a save in front of Vancouver Canucks left wing Alex Burrows (14) and New York Islanders defenseman Nick Leddy (2) during the first period at Barclays Center. Mandatory Credit: Brad Penner-USA TODAY Sports /
June 6, 2016; San Jose, CA, USA; Pittsburgh Penguins center Sidney Crosby (87) and San Jose Sharks center Joe Thornton (19) prepare for a faceoff during the third period in game four of the 2016 Stanley Cup Final at SAP Center at San Jose. The Penguins defeated the Sharks 3-1. Mandatory Credit: Kyle Terada-USA TODAY Sports /
Michel Anderson
I wanted to focus on a perceivably small portion of the game. I want to talk about faceoffs. You know that thing that establishes puck possession after every stoppage in play?
Sure the power play needs some work, so does the penalty kill. Heck, the ice itself needs work. But if I could fix one thing it's faceoff wins. Mainly because there are actual solutions that can be applied to the special teams and the ice.
Establish a better zone entry scheme for the power play. What the Isles are doing this season isn't working. For the penalty kill, maybe the team needs to establish a better defensive structure. And for the ice, well, get rid of the PVC pipes.
Faceoffs are 50/50 almost entirely luck based events that happen on average 60 times a game for the Islanders. And the Isles are sitting at a 48% faceoff win ratio. Ranking then 27th in the league. (All stats from puckbase.com)
Losing possession over 30 times a game is counterintuitive to the goal of the game. That is to have control of the puck in such a way that you can facilitate it going into the net.
Next: The Importance of Andrew Ladd's First Goal
If I had Fix-It Felix's golden hammer I'd give all our centers Yanic Perreault like faceoff qualities. He wasn't perfect in the draw, but his 61.75% NHL average would be a massive upgrade. Given the Isles the puck another seven times a game, rather than to their opposition.