Editorials
New York Islanders More Losers Than Winners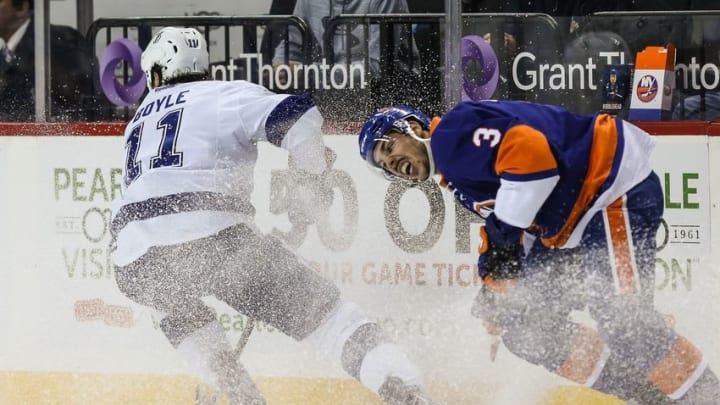 Nov 14, 2016; Brooklyn, NY, USA; New York Islanders defenseman Travis Hamonic (3) reacts as Tampa Bay Lightning center Brian Boyle (11) changes direction during the first period at Barclays Center. Mandatory Credit: Vincent Carchietta-USA TODAY Sports /
Nov 14, 2016; Brooklyn, NY, USA; New York Islanders defenseman Travis Hamonic (3) reacts as Tampa Bay Lightning center Brian Boyle (11) changes direction during the first period at Barclays Center. Mandatory Credit: Vincent Carchietta-USA TODAY Sports /
There isn't much going well for the New York Islanders at the moment. They're last in the Eastern Conference and without much hope of breaking the cycle. Picking our winners and losers isn't going to be easy.
The New York Islanders are in last place in the Eastern Conference. After last night the Isles could have been in a three-way tie for last with the Arizona Coyotes.
That's how rough it's been so far. We're looking at the bottom of the league again. Most of us thought that the days of us dwelling in the basement of the league were over.
The team just can't score, the Islanders third leading scorer is Denis Seidenberg. A man brought in after playing well in the World Cup and a year removed from being bought out by the Boston Bruins. Oh, and he's out with a broken jaw.
The power play is a pile of garbage sitting out in the sun, just stinking up the place at a 10.4% efficiency rating and ranked 27th in the league.
The penalty kill isn't any better. Once a strength is now a significant weakness. Last season, it was ranked 4th best in the NHL. Now it sits at 24th with a 79.7% efficiency.
The goaltending that bailed us out of so many situations last season hasn't really been there this season. Halak's .904 SV% and 3.09 GAA just isn't keeping the Isles in the games they used to turn into wins last season.
But here we are. It's going to be hard to find a winner in all of this losing.