New York Islanders More Losers Than Winners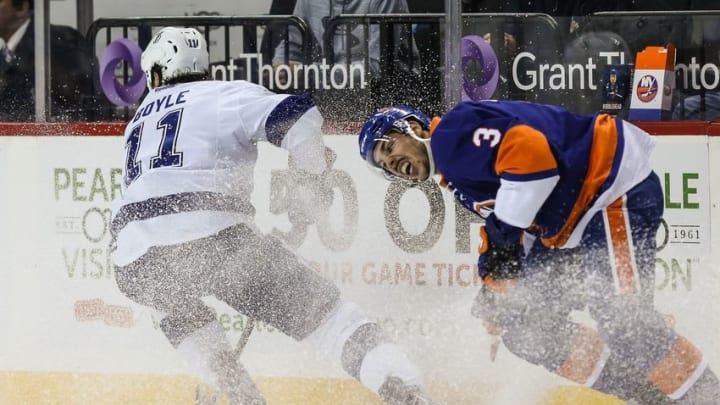 Nov 14, 2016; Brooklyn, NY, USA; New York Islanders defenseman Travis Hamonic (3) reacts as Tampa Bay Lightning center Brian Boyle (11) changes direction during the first period at Barclays Center. Mandatory Credit: Vincent Carchietta-USA TODAY Sports /
Oct 30, 2016; Brooklyn, NY, USA; Toronto Maple Leafs center Auston Matthews (34) and New York Islanders center Ryan Strome (18) fight for the puck during the first period at Barclays Center. Mandatory Credit: Brad Penner-USA TODAY Sports /
 Loser: Ryan Strome
What is going on with Ryan Strome? Five points in 16 games is not what the Islanders thought they were getting when they drafted him fifth overall in the 2011 NHL draft.
He had that one great year where he scored 50 points, but since then it's been the sum of a lemming and a cliff. In case you aren't familiar with mountain rodents, the analogy I'm going for is: "falling off a cliff".
He's got fire . He's being physical. He's made. He's frustrated. That's great and all, but he's taking a ton of penalties for it. He's already sitting on 12 penalty minutes, just under half of what he earned all of last season.
Ill-discipline isn't something the Isles can deal with right now. Remember, their penalty kill is 27th in the league in terms of efficiency.
How much of Strome's woes can be internalized can be debated. The Islanders keep trying him on the wing and it seems that Strome just isn't suited for that type of assignment. Although to be fair, the team's played him at center, and it hasn't gone much better.
So what's the cure for Strome. Who knows, but he and the organization need to figure it out. Maybe it's a change of scenery. Maybe a trade to a new city, a new surrounding can get the best out of Strome.
For that to happen Strome needs to start showing he has vaue, because right now he just isn't worth much.