New York Islanders Daily: Cal Clutterbuck Extension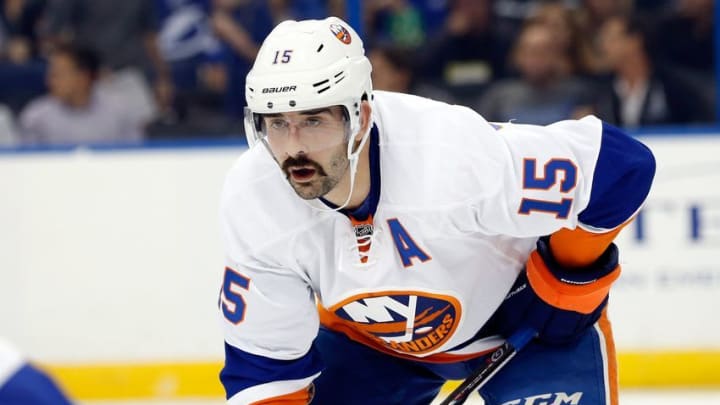 Nov 10, 2016; Tampa, FL, USA; New York Islanders right wing Cal Clutterbuck (15) against the Tampa Bay Lightning during the second period at Amalie Arena. Mandatory Credit: Kim Klement-USA TODAY Sports /
The New York Islanders extended Cal Clutterbuck before he hit free agency. Is this a good move or a bad move by the Islanders?
Cal Clutterbuck must be a happy camper today as he just inked a 5-year contract extension. Some are happy about the deal others are not and we'll hit on both sides of the argument.
The "Negative Nancy's" are upset because the Islanders are prioritizing a fourth liner and paying him good money like Casey Cizikas. Although clearly, the Islanders need top line talent you also need guys like Cizikas and Clutterbuck on your team.
Both are an essential part of the penalty kill unit, plus last year the Islanders fourth line was by far the most consistent Islanders line that they had but that's besides the point.
More from NY Islanders News
I understand the frustration, and nervousness about the Islanders not having the funds to bring in a top tier guy, but this move I agreed with.
Clutter is the heart and soul of this team, plus he's good friends with John Tavares. If you keep JT happy wouldn't he be more inclined to stay here? Ultimately it was only a $750 thousand raise on average per year and Clutterbuck for sure would've got more on the open market, so he did indeed take less to stay here which says something in itself.
In this one I think the positives out weigh the negatives. The Islanders still have prospects that they can trade for the top line talent, it doesn't have to be a free agent acquisition.
Isles Tweet Of The Day
Our Stuff
Alright, like many of IslesTwitter some of us here liked the Cal Clutterbuck signing while others did not. I'll provide you with both the positive review and the negative review and you decide for yourself.
Positive: Eyes On Isles
Negative: Eyes On Isles
Next: Winners And Losers Of The Week
Other Stuff
Islanders sign Clutterbuck to a 5-year extension (FanSided)
A lot of Clutterbuck coverage today, but that's the big story in Isles land. Dave Stevenson was not a fan of the deal.