Editorials
New York Islanders Roundtable: Top Line or Not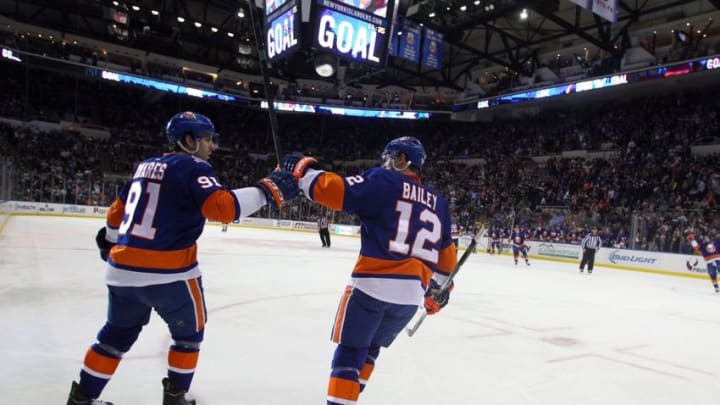 Jan 29, 2015; Uniondale, NY, USA; New York Islanders center John Tavares (91) celebrates his goal against the Boston Bruins with New York Islanders left wing Josh Bailey (12) during the second period at Nassau Veterans Memorial Coliseum. Mandatory Credit: Brad Penner-USA TODAY Sports
Jan 29, 2015; Uniondale, NY, USA; New York Islanders center John Tavares (91) celebrates his goal against the Boston Bruins with New York Islanders left wing Josh Bailey (12) during the second period at Nassau Veterans Memorial Coliseum. Mandatory Credit: Brad Penner-USA TODAY Sports
A team's top line is generally its best, but can we say that about the New York Islanders top line? But if not, then who? It's not as if the team is spoiled for choice.
The New York Islanders top line recently has been John Tavares, followed by Josh Bailey, and most recently Brock Nelson. Not exactly a top trio when you think about it.
Go across the league and you'll see that the top line is the team's top talent. Unless you're like the Pittsburgh Penguins and your generational player can only play competently with bottom six talent.
Dallas have Benn-Seguin-Spezza, in Boston it's Marchand-Bergeron-Backes, and in Colorado, it's Landeskog-MacKinan-Bourque, which tells you everything you need to know about the Colorado Avalanche.
So for this week's roundtable we asked the Eyes on Isles writing staff:
Is this (Bailey-Tavares-Nelson) the best top line the Isles have? Or is this something Capuano stumbled on that seems to work?
Then we asked to explain, why, and if not whose a better fit…if the Isles have one. No trades, no firings. Just, based on what the New York Islanders currently have in the system, what is the best top line?