New York Islanders Roundtable: Top Line or Not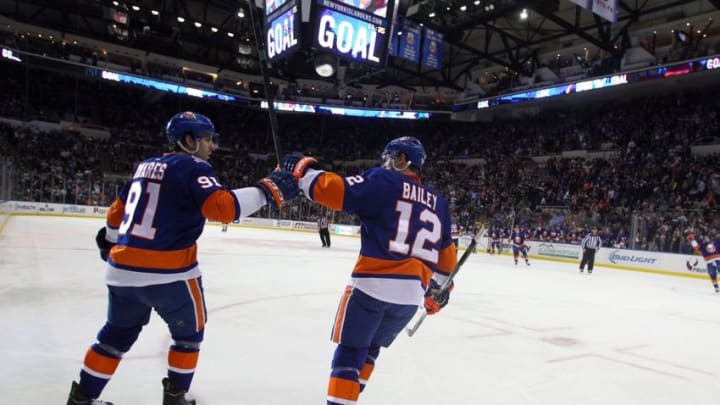 Jan 29, 2015; Uniondale, NY, USA; New York Islanders center John Tavares (91) celebrates his goal against the Boston Bruins with New York Islanders left wing Josh Bailey (12) during the second period at Nassau Veterans Memorial Coliseum. Mandatory Credit: Brad Penner-USA TODAY Sports /
Dec 13, 2016; Brooklyn, NY, USA; New York Islanders center John Tavares (91) plays the puck against Washington Capitals right wing Tom Wilson (43) during the second period at Barclays Center. Mandatory Credit: Brad Penner-USA TODAY Sports /
Jennifer Lapka
The Isles current top line with Nelson on a wing is fit-inducing. At the moment, Josh Bailey is the one who does belong for two reasons:
1. he's having a really good season and;
2. Tavares wants him there (would have to find the tweet from Staple on that).
Bailey's got the most experience with Tavares and it shows, game in and game out. The two know each other and have some modicum of chemistry. Bailey has exceeded expectations offensively thus far and he's been one of the few relentlessly energetic skaters throughout the season. It's actually a shame that his play thus far has done nothing to hush the Bailey-hating contingent.
Who doesn't belong is Brock Nelson. And seriously where do I begin with him? He has zero chemistry with either of his linemates and he disappears for too much of the game to add much to the line.
If he's a goal scorer, it's astounding to me that he's only got one since finding himself on that top line. I would also question the confidence both Tavares and Bailey have in him.
Case in point: against the Rangers Tavares and Nelson go in on a two on one. Tavares lays a beautiful pass on Nelson's stick and Nelson can't bury it. Later in the game, another odd-man rush with Nelson and Tavares. Tavares looked and HAD Nelson, but took the shot himself and scored.
What boggles my mind is what was actually developing with Tavares, Bailey, and Beauvillier. Chances were coming and the chemistry developing there. Beauvillier looked to be getting more comfortable with the idea of playing with Tavares and he's noticeable almost every shift.
He's working and skating and doing something every shift to create chances. We don't get that with Nelson. We've never gotten that with Nelson and Tavares won't get that with Nelson and it's a disservice and insult to continue with Nelson on the top line.