New York Islanders Roundtable: Top Line or Not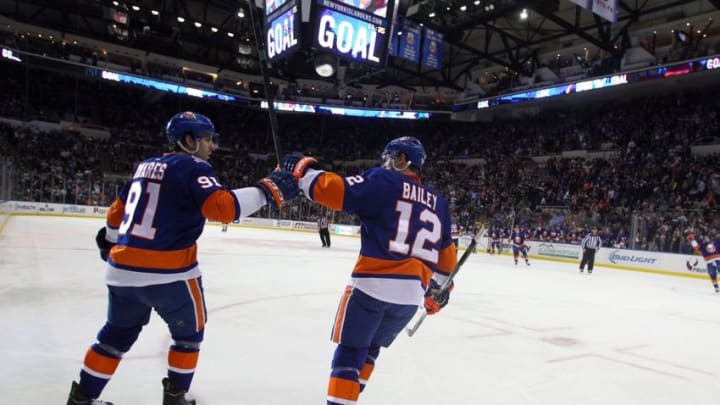 Jan 29, 2015; Uniondale, NY, USA; New York Islanders center John Tavares (91) celebrates his goal against the Boston Bruins with New York Islanders left wing Josh Bailey (12) during the second period at Nassau Veterans Memorial Coliseum. Mandatory Credit: Brad Penner-USA TODAY Sports /
Jan 16, 2015; Uniondale, NY, USA; New York Islanders former player Bryan Trottier is honored before a game against the Pittsburgh Penguins at Nassau Veterans Memorial Coliseum. Mandatory Credit: Brad Penner-USA TODAY Sports /
Farrell Hirsch
Is Bailey/Tavares/Nelson, the best first line the Islanders can muster? The first and most obvious response is, "yes, and we know because Jack has tried every single possible combination."  
But if you wipe the slate clean and try to create a great prototype for a line, you would want a great playmaking center, a sniper on the wing he naturally feeds, (for Tavares, a lefty, that means a right wing) and a talented power forward on the other side. Trottier between Bossy and Gillies is an obvious example.
It's safe to assume Tavares is the guy centering that first line, so all you need to do is find a Bossy and a Gillies. That's all.
By history and reputation, Andrew Ladd is the guy in the Clark Gillies mold. He won't get to the Hall of Fame doing it, but he has been a consistent goal scoring power forward who can outwork you on the boards. 
So who is the sniper? Nelson might have the best shot on the team, so I keep in in the mix. But he's a lefty… soft as warm butter… and usually fades in the second half. Bailey? He's just a guy. Cal Clutterbuck is a right handed shot. But not a first liner. Anthony Beauvillier needs to grow some man strength.  
So you know how I went with Ladd on the left side because, despite everything my eyes tell me, he SHOULD be the guy? Same thing on the right side. I'll say the ideal first line RW among players the Isles own is Mikhail Grabovski. I'm sorry if that doesn't really answer the question — but it does. The answer is, the Islanders don't have any first line wings so any attempts to manipulate the lineup and create a scoring machine is futile.