New York Islanders Roundtable: Top Line or Not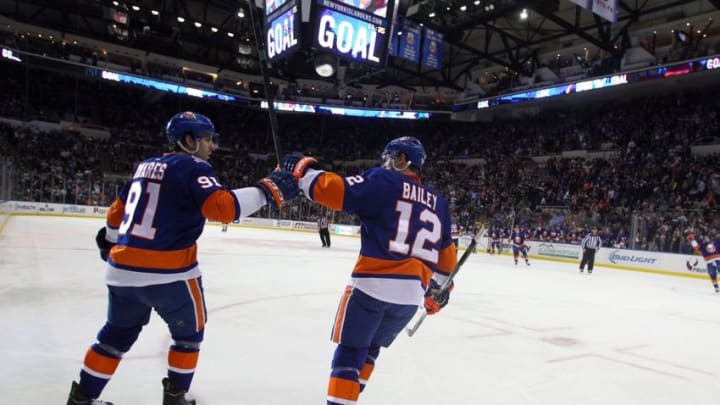 Jan 29, 2015; Uniondale, NY, USA; New York Islanders center John Tavares (91) celebrates his goal against the Boston Bruins with New York Islanders left wing Josh Bailey (12) during the second period at Nassau Veterans Memorial Coliseum. Mandatory Credit: Brad Penner-USA TODAY Sports /
Apr 27, 2015; Washington, DC, USA; New York Islanders center John Tavares (91) and Islanders center Brock Nelson (29) react after their game against the Washington Capitals in game seven of the first round of the 2015 Stanley Cup Playoffs at Verizon Center. The Capitals won 2-1, and won the series 4-3. Mandatory Credit: Geoff Burke-USA TODAY Sports /
Eric Vogel
These are hard questions to answer. For anyone who watches the Islanders enough, the eyeball test screams that John Tavares is the most offensively talented forward on the team by leaps and bounds.
What's worse is that anyone who watched his time with Vanek knows that most of what has followed since he left has been just a shadow of what could be possible. The story of John Tavares and "Who's on the top line?" is an epic tragedy, on par with the works of Homer, about wasted talent and potential and it all falls in the lap of Garth Snow.
Must Read: Revolving Door of Wingers
Is it the best line? Possibly. Right now, I see most of the forwards on this team as interchangeable parts around Tavares. They are all middle six talents that Capuano rotates around the elite level talent of the captain.
Occasionally something works here or there, but we've never had a line together for the better part of a season. This is 100% because none of these forwards deserve to be there. Instead, they just fall into the roll for as long as they can handle it and then fall out again.
I have to bring this back to Garth again because as bad as Capuano is at chess, he's worse as a result of Snow setting up his board with one king and fifteen pawns. Of course, Garth can never admit that all of these signings and prospects are his fault so if they don't pan out it will be on him. Clearly, something has got to give.