New York Islanders Roundtable: Top Line or Not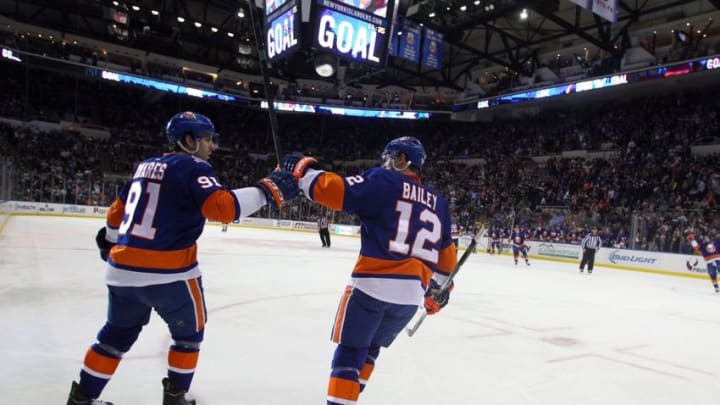 Jan 29, 2015; Uniondale, NY, USA; New York Islanders center John Tavares (91) celebrates his goal against the Boston Bruins with New York Islanders left wing Josh Bailey (12) during the second period at Nassau Veterans Memorial Coliseum. Mandatory Credit: Brad Penner-USA TODAY Sports /
Feb 14, 2015; Uniondale, NY, USA; New York Islanders left wing Josh Bailey (12) celebrates his second goal with center John Tavares (91) during the first period against the Columbus Blue Jackets at Nassau Veterans Memorial Coliseum. Mandatory Credit: Anthony Gruppuso-USA TODAY Sports /
Michel Anderson
I think we need to stop looking at these lines as dead set trios. As though three names must be named in unison as some sort of cohesive hegemonic unit. Rather that duos with interchangeable elements tailored to any given situation.
I don't have an issue with John Tavares and Josh Bailey being the top line, with a third element being added depending on the opponent they face. At the moment it's Bailey. Tomorrow it could be Anders Lee.
The top line is supposed to reflect our best. The top talent in the Islanders organization. And that's where fans like me get hung-up. Are Josh Bailey and Brock Nelson the best representation of the Islanders talent?
No. Two former first round selections, bailey at 5 and nelson at 15, that haven't proven their high draft status. These two aren't what you'd consider as glowing examples of success.
Are they the best the New York Islanders got right now? Yeah, probably. So in a way that's putting our best foot forward. But don't make any mistakes about this organization with those two on the top line.
Next: Capuano Backs Himself Into a Corner
This isn't the team that's going to make much noise in the league, as we had hoped they would. It's a shame what one bad free-agency window can do to a franchise and how far back it has set this organization.