NY Islanders News
New York Islanders Daily: Three Goalie System Destroyed Halak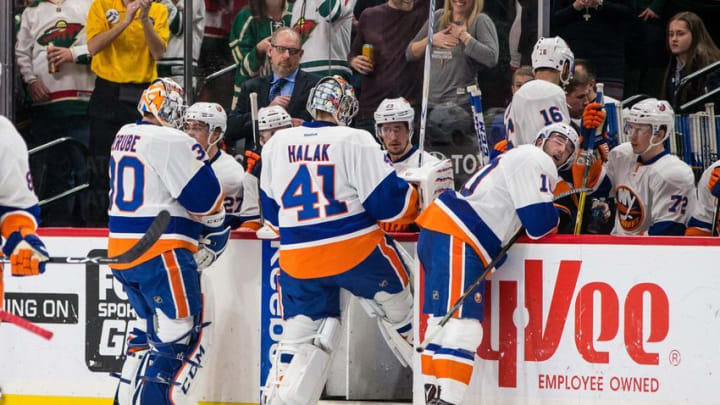 Dec 29, 2016; Saint Paul, MN, USA; New York Islanders goalie Jaroslav Halak (41) is pulled from the game in favor of goalie Jean-Francois Berube (30) during the second period against the Minnesota Wild at Xcel Energy Center. Mandatory Credit: Brace Hemmelgarn-USA TODAY Sports /
The New York Islanders three goalie situation was a disaster from the start. It wasn't smart to stick with it for as long as they did.
Jaroslav Halak now finds himself in the AHL after a rough start to the 2016-2017 season. What was the cause for his struggles? A three goalie system certainly had something to do with the goalie problems.
Jeff Capellini writes that that Halak could not adjust to the system. This was shown by his agent lashing out and complaining on twitter.
Even last year, when healthy, it was clear that Jaro was not a fan of this three goalie system. He, and his agent, felt like the three goalies couldn't get enough practice time due to the limited reps at practice.
More From Eyes On Isles: Jaroslav Halak Put On Waivers
Although on the flip side the reason that the Isles carried three goalies was due to Halak's health issues. It was really an all around messed up situation from top to bottom.
So to recap, the Isles were forced into this because of Jaro's health concerns and Jaro hated that the Isles carried three goalies. How ironic.
In reality Halak's too talented to let something like this effect him in the way that it did. He has always been a dependable (not elite) goalie in this league. In 2016 the Isles saw enough of him and sent him down.
Isles Tweet Of The Day
Our Stuff
Adam Pelech recalled (Eyes On Isles)
The Islanders have recalled defenseman Adam Pelech. It's not quite clear why they elected to call him up now.
Islanders are breaking Josh Ho-Sang (Eyes On Isles)
It seems clear the Islanders don't know how to handle Ho-Sang. He's a character they need to let him be himself, they're trying to break him.
Next: Expansion Draft Refresher
Other Stuff
Islanders "in it" (ESNY)
The Islanders are alive in 2017 says Matt Di Giacomo. They have a long way to go but are not done just yet.