Islanders Have Scored One Goal In Each Of The Last Three Games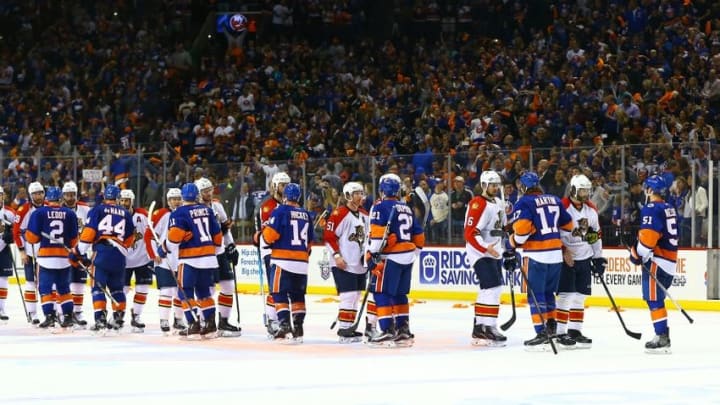 Apr 24, 2016; Brooklyn, NY, USA; The New York Islanders are congratulated by the the Florida Panthers during the ceremonial handshake line after defeating the Panthers in double overtime in game six of the first round of the 2016 Stanley Cup Playoffs at Barclays Center. The Islanders defeated the Panthers 2-1 to win the series four games to two. Mandatory Credit: Andy Marlin-USA TODAY Sports /
With the 2-1 loss to the Florida Panthers tonight the New York Islanders have know dropped three in a row scoring just three goals along the way.
Is this rock bottom? Against the Avalanche, Coyotes and now the Panthers the New York Islanders have managed just three goals over that span. An offensive embarrassment.
As for the highlights from tonight Keith Yandle got Florida on the board first. The Panthers lead lasted just five minutes exactly.
Nick Leddy scored his sixth goal of the year in order to tie the game up at one.
The score would be one to one after one (nice alliteration there). Just over one minute into the second period Florida would add another. This time it was from Jason Demers, giving Florida the lead for the second time.
More From Eyes On Isles: Thomas Greiss Isn't The Problem
The next 39 minutes would be scoreless. That was it. I feel like I've written this post game a million times over already.
The offense didn't do a darn thing all night. How many times has the Islanders offense been missing in action this year honestly? It's beyond mind boggling that this continuously happens night after night
I genuinely feel awful for Thomas Greiss. The guy has played very good over the last three games but the offense hasn't given him anything to work with. The guy can't be expected to pitch shutouts every single night, and right now that's what it would take for this team to win.
Next: Okposo & Nielsen in the All-Star Game
Can you believe that it was only nine months ago that this team beat the Panthers in a playoff series? It feels like a lifetime ago, with the rapid decline of this team.