New York Islanders: Five Keys Against Columbus Blue Jackets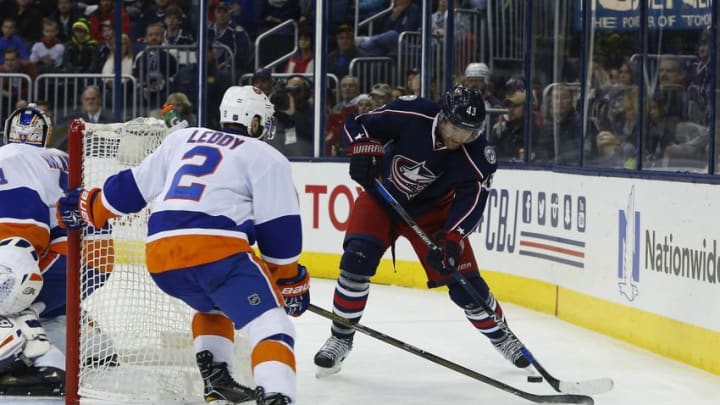 Dec 10, 2016; Columbus, OH, USA; Columbus Blue Jackets left wing Scott Hartnell (43) passes the puck as New York Islanders defenseman Nick Leddy (2) defends during the second period at Nationwide Arena. Mandatory Credit: Russell LaBounty-USA TODAY Sports /
Dec 10, 2016; Columbus, OH, USA; Columbus Blue Jackets goalie Sergei Bobrovsky (72) makes a save against New York Islanders center Shane Prince (11) during the first period at Nationwide Arena. Mandatory Credit: Russell LaBounty-USA TODAY Sports /
Play a Full 60 Minutes
It goes without saying that a full 60 minutes is required if the Islanders want any chance to turn their fortunes against one of the leagues best.
When the two meet again on Tuesday night for the second time, the Islanders will be playing the third of a six-game homestand.
In the second and third periods of Sunday's 3-2 overtime loss to the Flyers the Islanders looked gassed and played like it too. Playing most of the game in their own zone they were outshot 48-37 and squandered a 2-0 lead. The Islanders were lucky to escape with a point.
Granted Tuesday's game won't be at the back end of two games in two nights but the Isles have had the tendency all season to have spurts of poor puck management, and a lack of urgency long enough to put a close game out of reach.
Stay Out of the Box
The Blue Jackets high-powered offense has been a major key to their mid-season success. Led by forward Cam Atkinson, whose 23 goals are third in the league, the Jackets have the NHL's best power play. Their 25% success rate makes them a force to reckon with.
The Isles penalty kill got off to a rough start in the season but have seen a recent improvement moving them up to 19th in the league, still a ways away from last season's fourth best kill. It starts with guys like Casey Cizikis, Nick Leddy, and Nikolai Kulemin but even the captain has been making an impact when called upon.