New York Islanders: Five Keys Against Columbus Blue Jackets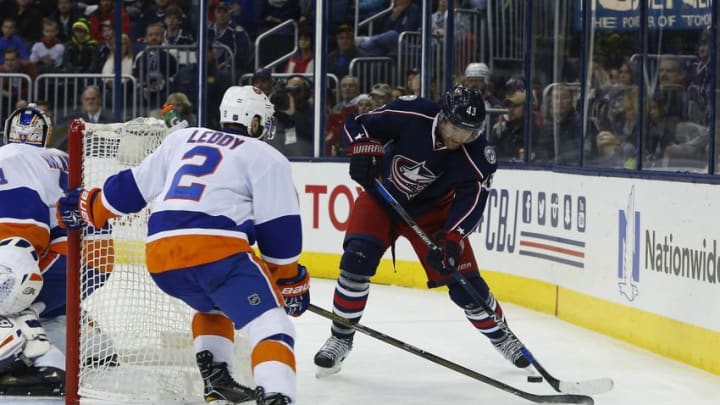 Dec 10, 2016; Columbus, OH, USA; Columbus Blue Jackets left wing Scott Hartnell (43) passes the puck as New York Islanders defenseman Nick Leddy (2) defends during the second period at Nationwide Arena. Mandatory Credit: Russell LaBounty-USA TODAY Sports /
Dec 10, 2016; Columbus, OH, USA; Columbus Blue Jackets center Brandon Dubinsky (17) and New York Islanders defenseman Travis Hamonic (3) fight during the first period at Nationwide Arena. Mandatory Credit: Russell LaBounty-USA TODAY Sports /
Fire Away
The Islanders offense has certainly had its ups and downs. Inconsistency has been the name of the game and getting to the dirty areas has been an issue.
The offense will have dry spells like no other, and come out the next week looking like a powerhouse. They will certainly need the latter on Tuesday if they are to beat likely Jackets starter Sergei Bobrovsky. The 2013 Vezina winner is third in the league in save percentage and displays an impressive 28-7 record.
Like most goalies in the NHL, Bobrovsky falters when opponents have success in the dirty areas. Besides Anders Lee, the Isles struggle to come away with "garbage goals" on rebounds near the crease.
Using Lee and having a solid game plan to crash the net will benefit the Isles if they want to beat the Russian netminder, something that they failed to do in the December matchup.
More on the New York Islanders: Please Stay Away From Gerard Gallant
Keep The Fire Burning
The Islanders are 3-0-1 in their last 4 games and that has come at the hands of a few scorching hot players.
Since signing with the Islanders before the 2015-2016 season Thomas Greiss has been much more than a serviceable net minder, but the last week may have been his best with the team. Greiss posted back-to-back shutouts against the Bruins and Stars and looked solid yet again in Sunday's loss to the Flyers.
The Islander's goaltender was named the NHL's second star of the week.
Greiss will likely be in net again on Tuesday and the team has shown control and confidence in front of the 30-year-old German.
John Tavares may have failed to beat Flyers goalie Steve Mason on a breakaway in overtime on Sunday, but don't let that make you forget the captain is in the midst of his best stretch of the season. A career best 8 goals in his last 6 games including a hat trick against the Panthers, Tavares is on fire.
After taking the blame after Sunday's game for not only his breakaway miss but failing to get back on the game-winning goal, look for Tavares to come out quick on Tuesday.