New York Islanders Daily: Defense Needs To Help Goalies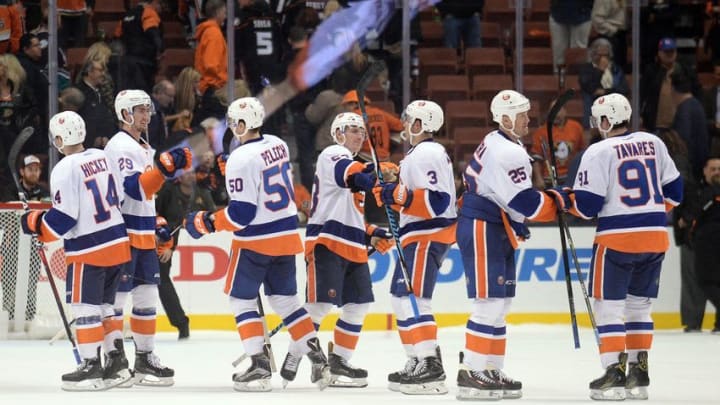 November 22, 2016; Anaheim, CA, USA; New York Islanders celebrate the 3-2 shootout victory against the Anaheim Ducks during at Honda Center. Mandatory Credit: Gary A. Vasquez-USA TODAY Sports /
The New York Islanders need their defenseman to help out their goalies says head coach Doug Weight. Weight is correct with his criticism.
In the last three games the New York Islanders have given up five goals. The easy blame would be to throw the goalies under the bus but that's not necessarily the most accurate group to blame.
Doug Weight says the Isles need to help out there goalies. "You see 10 goals on (49) shots and you think it's bad goaltending. But we're really not giving up a lot. We're also not helping our goalies out."
Giving up chances seems to be all the Islanders have done defensively. The play in their own zone hasn't looked good at all during this three game stretch.
More from NY Islanders News
Even Johnny Boychuk agreed. He said "We're not giving up chance after chance after chance, but the ones we are giving up are really, really good chances."
Normally when you give up five goals a game over a three game stretch you would expect to be 0-3. The Islanders luckily went 1-1-1 and took three out of six points.
If the Isles are going to continue to be competitive they are going to need the defense, and their play in their own zone to be better.
Isles Tweet Of The Day
Our Stuff
Ice quality to blame for low scoring (Eyes On Isles)
Always a hot topic in the hockey world: How do we increase scoring? Apparently poor ice quality is an excuse for the low scoring.
The Islanders are likely to pass on Claude Julien (Eyes On Isles)
Yep, here's why the Isles will likely miss the boat on Julien.
Next: Pending Islanders Free Agents
Garth Snow's trade deadline resume (Eyes On Isles)
How has Garth faired in past trade deadlines? Find out Eric thinks here.