New York Islanders Starting Lineup of Traded Draft Picks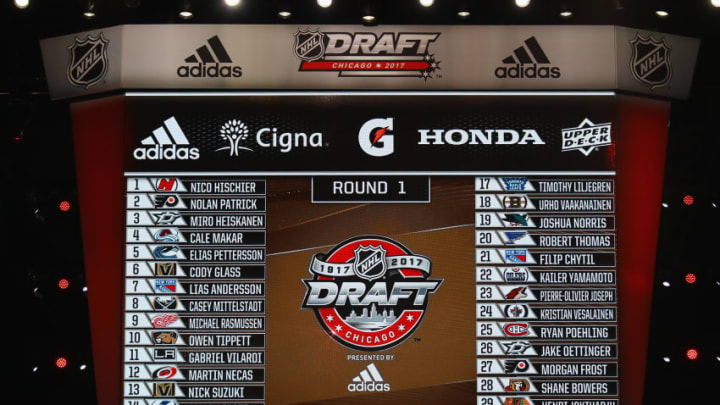 CHICAGO, IL - JUNE 24: A general view of the first round draft picks board during the 2017 NHL Draft at the United Center on June 24, 2017 in Chicago, Illinois. (Photo by Bruce Bennett/Getty Images) /
new york islanders /
With the season over for the New York Islanders, we turn our attention to the draft. Before focusing on the new class of draftees, what about learning about the ones that could have been?
Look, the New York Islanders aren't going to be making the playoffs. Baring a crazy win-streak or an equally crazy-losing streak, they aren't going to move up or down in the lottery draft order. That means we're left with virtually two weeks of hockey that don't particularly mean anything.
So let's fill our time thinking of other things. Things like: What could have been?
The New York Islanders roster is loaded with its own draft picks. Of the 33 players that have played at least a game this season, 15 were drafted by the Islanders.
Players like John Tavares (1st overall 2009), Anders Lee (152nd overall 2009), Josh Bailey (9th overall 2008), Adam Pelech (63rd overall 2012), Mathew Barzal (16th overall 2015).
That's just a few of the names. But what about the players that were never drafted, but could have? I'm talking about draft picks that he owned either from the start or he picked up through a trade and that he subsequently traded away.
Whatever became of some of those pics? This is a list of the players the New York Islanders could have picked, and are still playing, but didn't for every position.
For this list, I went back no earlier than the 2006 NHL Entry Draft. Twelve years gives us enough drafts and trades with picks going back and forth to find someone in each position. Although finding a goalie was a tough proposition.