New York Islanders Starting Lineup of Traded Draft Picks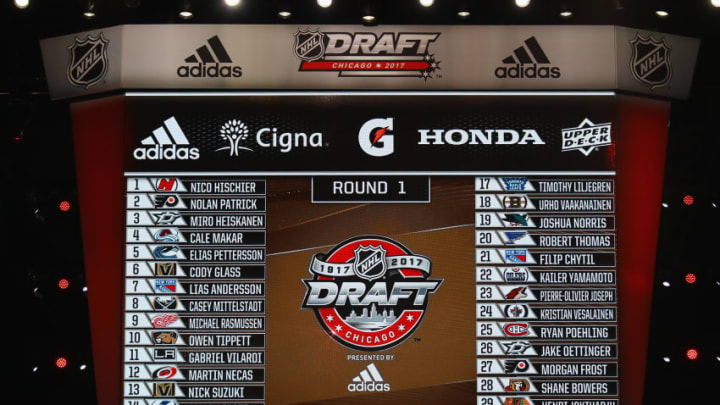 CHICAGO, IL - JUNE 24: A general view of the first round draft picks board during the 2017 NHL Draft at the United Center on June 24, 2017 in Chicago, Illinois. (Photo by Bruce Bennett/Getty Images) /
Left-Wing – Brad Marchand
Drafted: 2006 3rd Round 71st Overall
I know Brad Marchand is a ratty player. I know he gets on everyone's bad side. But ask anyone in Boston and they'd say: "He's our rat."
There's no denying Marchand is to the Department of Player Safety, what Bart Simpson is to Principal Skinner. A recidivist with a rap sheet longer than they care to measure. But there's no denying how productive he is.
Over the last two season, Brad Marchand has become an offensive for in the NHL. In 59 games this season he's put up 78 points. That's a pace of 1.32 points per game or 108 points over a full season. How good would that look slotted on JT's left side?
The Islanders originally picked up the 71st pick in the 2006 draft from the then-named Phoenix Coyotes in exchange for Oleg Kvasha. Just over three months later they traded that pick to Boston in exchange for a fourth and fifth round pick in the draft.
The Islanders would send that fourth-round pick to San Jose for a fourth and sixth round picks from San Jose. That's three picks out of the one third round selection, again, that Boston would use for Brad Marchand.
The Islanders would pick Jase Wesloski (2006 108th overall), Shane Sims (2006 126th overall), and Stefan Ridderwall (2006 173rd overall). Sims would be the only of the trio to play at the NHL. Suiting up for a game with the Philadelphia Flyers.
Brad Marchand? He's now become one of the better players in the league. Sure, some of that has to do with the system in Boston as opposed to the one he might have been treated to with the Islanders. But it's still fun to think about: What if…