New York Islanders Lose To New Jersey Devils 4-3 (Highlights)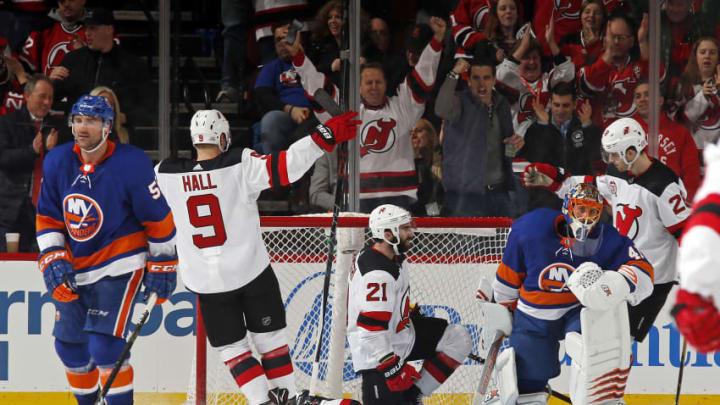 NEWARK, NJ - FEBRUARY 24: Kyle Palmieri /
Look the games don't' matter for the New York Islanders. But as professionals, you still want to see them play a full 60 minutes.
If you didn't watch the New York Islanders game against the New Jersey Devils, that headline might make you think the Isles were completely outplayed. They weren't but were it not for no luck and a mental lapse, the Islanders might have won.
Which, when you think about it perfectly sums up the 2017-18 Islanders season. They've had no luck and a ton of mental lapses.
It's why the New York Islanders find themselves int he situation they're in right now. It's not the only reasons, its an oversimplification. But serves the point that the Isles just couldn't get out of their own way this season.
Can't Not Score Own Goals
Tonight marked the fourth game in a row that the Islanders scored a goal on themselves. That's right, on themselves. Davidson twice, Barzal the third time and then it was Adam Pelech.
But the Isles still battled back into the game. Tanner Fritz picked up his third NHL goal, Beauvillier got his 19th goal of the season, and Chris Wagner picked up his first as a New York Islander.
But again, the game was won and lost thanks to an "own-goal" and mental lapses.
The mental lapse I'm referring to is Taylor Hall's second goal of the night and 36th of the season. He was alone on three Islanders players and was able to score. How? Where's the gap control? Where's the back pressure? And why wasn't Greiss well out fo the paint?
Full credit to Taylor Hall as he continues to push for that Hart Trophy and more importantly make the playoffs for the first time in his NHL career.
Next: Brock Nelson Is Increasing His Trade Value
The end of the season can't come soon enough for the New York Islanders. Thankfully there are but three games to go in the 2017-18 before the gloom of the offseason envelopes us all.