New York Islanders Absolute Failure at 1999 NHL Draft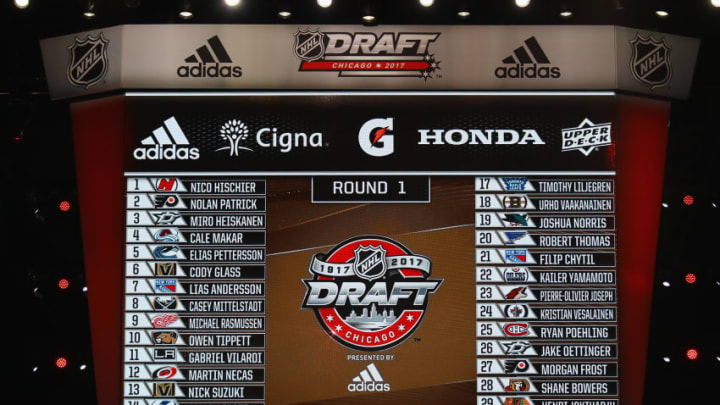 CHICAGO, IL - JUNE 24: A general view of the first round draft picks board during the 2017 NHL Draft at the United Center on June 24, 2017 in Chicago, Illinois. (Photo by Bruce Bennett/Getty Images) /
new york islanders /
Is it possible to lose the NHL Entry Draft if you pick in the top five? What about if you get three picks in the top 10? The New York Islanders did just that in 1999 and failed miserably.
In the 1998-1999 season, the New York Islanders were a terrible team. With a 24-48-10 record and 54 points, the Isles finished 13th in the East. Capped with an 11 game winless streak from December 28th, 1998 to January 21st, 1999. Only the Tampa Bay Lightning were worse with 48 points.
The Islanders had an aging core of vets making big money and so ownership decided to move on. General Manager Mike Milbury was eager to please. Or so it seemed.
The Isles would be compensated for their terrible season with the fifth overall pick. But Mike and the Mad Dogs (the owners) wanted to take full advantage of the deepest drafts in years. So they sold off some vets and packaged other assets to pick up another three first-round picks.
With a 50 point season, Zigmund Palffy and others were sent to Los Angeles for their first-round pick (eighth overall). Trevor Linden and his 47 points was sent to Montreal for thier first (10th overall). And with a second round pick and a third round selection, the Isles got Dallas' first round pick.
Turns out the 199 draft was arguably the worst ever, and the Islanders rebuild was meant to suffer and put on hold for….well we're still waiting for the rebuild to be over.
Here's a list of what the Isles gave up and what the Islanders got in the 1999 NHL Entry Draft.