Editorials
New York Islanders 2018 NHL Mock Draft 1.0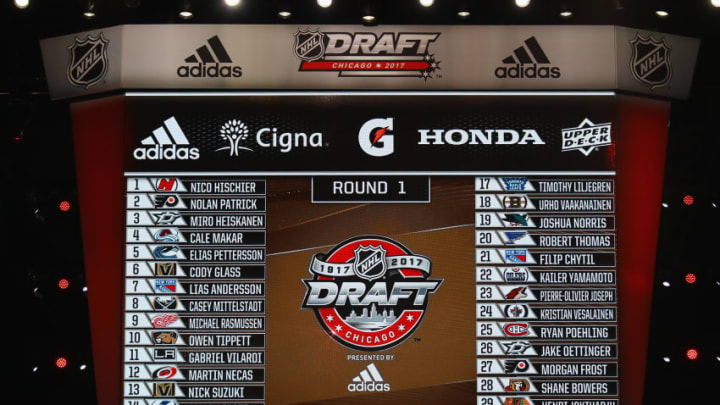 CHICAGO, IL - JUNE 24: A general view of the first round draft picks board during the 2017 NHL Draft at the United Center on June 24, 2017 in Chicago, Illinois. (Photo by Bruce Bennett/Getty Images)
25. Rasmus Sandin (D) | Toronto Maple Leafs
Sault Ste. Marie Greyhounds, 5'11", 190lbs | 51 games, 45pts (12G, 33A)
Toronto sports fan: "The Toronto Maple Leafs draft a defender names Rasmus in the first round! Cue the celebrations! Wait? Rasmus, who? Sandin? That's close to Sundin. The celebrations are back on everyone!"
He's another small defender, at 5'11" he's under the six-foot threshold artificially imposed on defenders coming into the NHL. Which means that regardless of his 45 points in 51 games, he's going to fall a number of spots in the ranking. It's that easy with the NHL. Undersized equals risky. Just don't tell Martin St. Louis, Theo Fleury, or even Johnny Gaudreau.
26. Martin Kaut (RW) | New York Rangers
HC Dynamo Pardubice, 6'1", 175lbs | 38 games, 16pts (9G, 7A)
With the 26th pick in the 2018 NHL draft the New York Rangers select….I don't care.
He's a German-born player, playing in the Czech league. He's probably ok. He'll probably be a fine NHL player if and when he gets to the NHL.
But it's the Rangers second of three picks in the draft because their organization properly responded to the situation unfolding around them. Unlike the Islanders who still seem mystified that they can twiddle their thumbs without said thumbs hitting each other.
27. K'Andre Miller (D) | St. Louis Blues
USA U18, 6'3", 205lbs | 56 games 28pts (9G,19A)
He's the next wave of big and mobile defenders. He's showing great promise in the US U18 developmental system. His numbers are solid. His play on the offense and the defense are solid. The kid is just perfectly rounded. He's just good in all aspects of the game.