New York Islanders 2018 NHL Mock Draft 1.0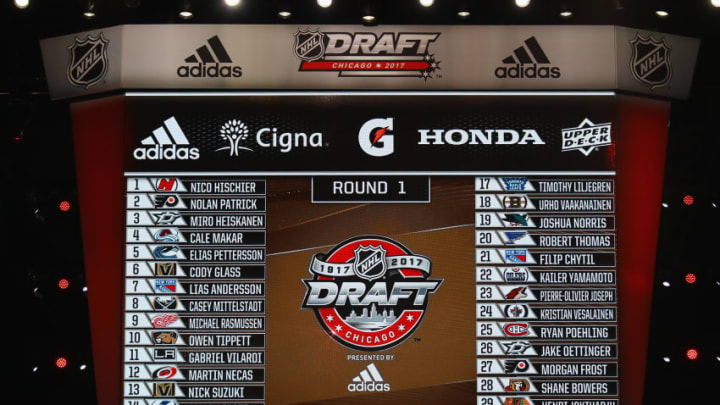 CHICAGO, IL - JUNE 24: A general view of the first round draft picks board during the 2017 NHL Draft at the United Center on June 24, 2017 in Chicago, Illinois. (Photo by Bruce Bennett/Getty Images) /
BUFFALO, NY – JUNE 24: Lucas Johansen celebrates with the Washington Captials after being selected 28th overall during round one of the 2016 NHL Draft on June 24, 2016 in Buffalo, New York. (Photo by Bruce Bennett/Getty Images) /
28. Mattias Samuelsson (D) | Washington Capitals
USA U18, 6'3″, 205lbs | 56 games 31pts (11G, 20A)
Samuelsson can skate, hit, and shoot. Sounds like a defensive version of Alex Ovechkin right? He'll never be as prolific as Ovechkin (very few ever will), but Samuelsson has tremendous upside.
29. Jacob Olofsson (C) | Detroit Red Wings
Timra IK J20, 6'2″, 185lbs | 43 games 21pts (10G, 11A)
The only knock on Olofsson's game is his speed. But by every other measure, the young Swede has every other tool to succeed at the NHL. Including size. At 6'2″ 185lbs Olofsson would fit right into the Detroit Red Wings that need a bit more size down the middle.
30. Dominik Bokk (LW/RW) | New York Rangers
Vaxjo Lakers HC J20, 6'1″, 180lbs | 35 games, 41pts (14G, 27A)
Sigh….I still don't care.
Yet another European prospect with nice numbers. Yet another possible blue-chip prospect going to the New York Rangers.
Honestly, how hard is it for the New York Islanders to realize what's going on around them? The Rangers did and they're about to bring in three – three! – blue-chip prospects. Bokk looks like a fine player and is versatile enough to play on either wing.
I still just wish the Islanders had the same type of foresight to see the writing on the wall and act accordingly.
Next: 10 Step Plan To Fix The Islanders
31. Benoit-Olivier Groulx (C) | Chicago Blackhawks
Halifax Moosehead, 6'1″, 176lbs | 68 games, 55pts (28G, 27A)
Groulx has good junior numbers playing the high scoring QMJHL. What better than to be drafted by the team the NHL markets so heavily than the Chicago Blackhawks? He'll get to play outdoor games every year and play in an organization that knows what it's doing.