New York Islanders: Profile of Pick 11 and 12 NHL Draft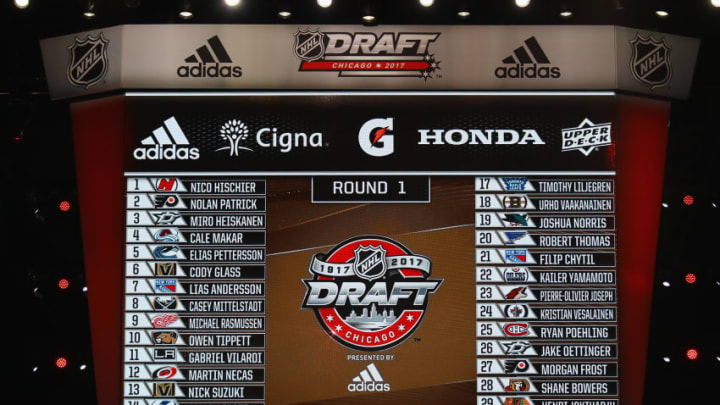 CHICAGO, IL - JUNE 24: A general view of the first round draft picks board during the 2017 NHL Draft at the United Center on June 24, 2017 in Chicago, Illinois. (Photo by Bruce Bennett/Getty Images) /
new york islanders /
The New York Islanders will pick eleventh and 12th at the 2018 NHL Entry Draft. Great. What does an eleventh or 12th draft pick return these days?
What could the New York Islanders draft at the eleventh and 12th spot in the 2018 NHL Entry Draft?
The Islanders entered the 2018 NHL Draft Lottery with the tenth and 12th pick and left with the eleventh and 12th. Thanks to the Carolina Hurricanes drafting second overall the Isles tenth pick got bumped down
Which is just great. A Metropolitan Division rival at the same crossroads as the Isles gets a second overall pick for the second year in a row. See the Philadelphia Flyers last season who picked Nolan Patrick with a 6.0 percent chance of selecting in the top three.
So with the Hurricanes lucky day, the Islanders fall outside of the top ten. Which sounds awful. The Isles entered the draft with two picks and left with less than they arrived with.
Looking over the five drafts from 2012 to 2016 who's been drafted and what kind of NHL player have they become? My aim is to create a type of profile of the players that the New York Islanders might be drafting this year.
I chose 2012-2016 because I wanted a five year period and I didn't want to include 2017 because they haven't featured in the NHL just yet.