New York Islanders: Profile of Pick 11 and 12 NHL Draft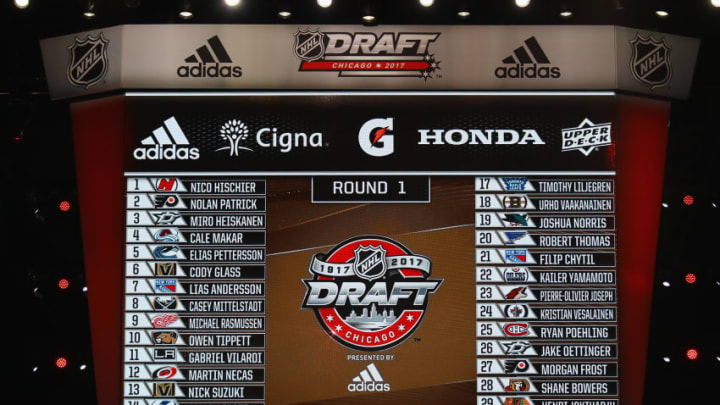 CHICAGO, IL - JUNE 24: A general view of the first round draft picks board during the 2017 NHL Draft at the United Center on June 24, 2017 in Chicago, Illinois. (Photo by Bruce Bennett/Getty Images) /
OTTAWA, ON – OCTOBER 5: Logan Brown #21 of the Ottawa Senators looks on during a game against the Washington Capitals at Canadian Tire Centre on October 5, 2017 in Ottawa, Ontario, Canada. (Photo by Jana Chytilova/Freestyle Photography/Getty Images) /
2016: Logan Brown and Michal McLeod
Logan Brown | Ottawa Senators
Ottawa drafted a version of Zdeno Chara at forward. At 6'6″ and 220lbs, Logan Brown is a giant on skates. Which has obviously aided him in putting up 201 points in 82 games.
But what's important here is that Brown hasn't played in the NHL so far. Regardless of the points, he's put up in junior the Senators haven't felt the need to call him up.
At 20 years old he'll be able to play in the AHL next season. Hopefully, he's ready cause if not he'll be entering bust territory.
Michael McLeod | New Jersey Devils
Who? Yet again.  A "who"? That's cause McLeod hasn't played a single NHL game yet. To be fair to McLeod and to Brown it's only been two years since they've been drafted. Of the top twelve in the first round, only Ollie Juolevi hasn't played a game in the NHL.
Seeing what he's doing with the Boston Bruins, Jersey is probably wishing they'd taken Charlie MacAvoy at number 12 rather than McLeod. I understand that you take the best available player at the draft. But if you can take a player like McAvoy without going way off the board you do it.
Both players would have only played two full seasons if they played as of day one so its hard to paint them as busts. But they are some of the few that have little NHL experience in their draft class. You can't say that's a good thing.