Editorials
New York Islanders: Profile of Pick 11 and 12 NHL Draft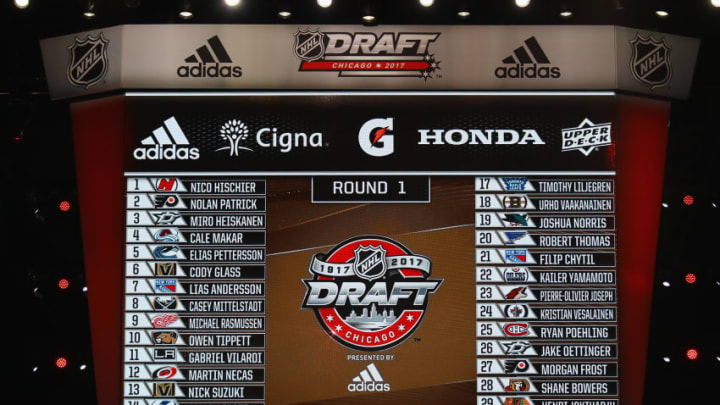 CHICAGO, IL - JUNE 24: A general view of the first round draft picks board during the 2017 NHL Draft at the United Center on June 24, 2017 in Chicago, Illinois. (Photo by Bruce Bennett/Getty Images) /
BLACKTOWN, AUSTRALIA – FEBRUARY 14: An auctioneer's gavel is seen prior to the home auction for a four-bedroom house at 230 Blacktown Road on February 14, 2015 in Blacktown, Australia. The Blacktown home sold for AUD$565,000 at auction today, smashing the reserve set at AUD$1. The Sydney home auction clearance rate is expected to remain high following the Reserve Bank's interest rate cut to 2.25 per cent last week. (Photo by Mark Metcalfe/Getty Images) /
Verdict
With both Filip Forsberg and Max Domi in the mix it's possible the Isles get a great NHLer. Heck, they drafted Mathew Barzal 16th overall in 2015. But Looking at the field you'll notice at least another seven players that have zero impact at the NHL level.
I'm not counting Kevin Fiala in either category. He isn't a great NHL'er nor is he 'zero impact'. I'd like to see another year of 50 point levels of production from him.
Drafting at eleventh and 12th won't guarantee a great NHL level prospect, but it should return an NHL level player for the New York Islanders.
Maybe the Islanders try to milk whatever worth they have in these picks and trade them for a ready now player they could use. Today. Maybe they sent that eleventh overall pick to the Tampa Bay Lightning for Ryan McDonagh in the offseason?
McDonagh can save face by saying the Lightning controlled his destiny and thus doesn't have to go from the Rangers to the Islanders. The Lightning get a top half first round pick to add to their roster. It's win-win for both teams.
Or maybe the Islanders see a starter somewhere in the league that they want. A first-round pick gets the conversation starting.
It's going to be interesting to see how the New York Islanders address their two top half picks in the draft. Do they trade them for help now? Or do they draft players they hope they can turn into NHLers?