New York Islanders Seattle Expansion Mock Draft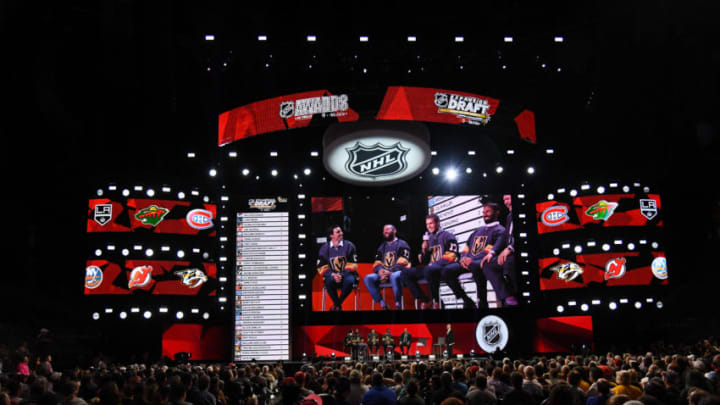 LAS VEGAS, NV - JUNE 21: The newest members of the Vegas Golden Knights address the crowd during the 2017 NHL Expansion Draft Roundtable at T-Mobile Arena on June 21, 2017 in Las Vegas, Nevada. (Photo by Ethan Miller/Getty Images) /
LAS VEGAS, NV – JUNE 21: The newest members of the Vegas Golden Knights address the crowd during the 2017 NHL Expansion Draft Roundtable at T-Mobile Arena on June 21, 2017 in Las Vegas, Nevada. (Photo by Ethan Miller/Getty Images) /
If the NHL expands to Seattle, teams will face the same rules as the Vegas expansion. What does that mean for the New York Islanders?
Back in March of 2018 the New York Islanders, as well as the rest of the NHL, were informed that should the league expand to Seattle its team would be drafted along the exact same lines as the Vegas expansion draft.
We thought that owners wouldn't be happy to have another expansion team to come in and immediately have the opportunity to vie for the Stanley Cup like the Vegas Golden Knights. But according to Gary Bettman in his end of year address, there's been "no pushback whatsoever".
There's still a lot to do before Seattle actually becomes the league's 32nd team, or before they can draft their team. But we thought it would be interesting how the Islanders and Lou Lamoriello might approach expansion.
First, the rules for teams protecting players. Just in case you forgot what the rules for the Vegas expansion were.
Teams must protect seven forwards, three defensemen, and one goalie. Or, eight skaters and one goalie.
Players with a no-move or no-trade clause count on the protected list.
First and second-year players and unsigned players don't count.
Those are the three big rules. There are a few other rules based such as how much experience exposed players must have. But we wanted to keep it simple.
What my co-expert Matt O'Leary and I did was look at the New York Islanders and figure who they'd protect and who Seattle would eventually take in the expansion draft if it happened this offseason.