NY Islanders News
New York Islanders Casey Cizikas' Scoring Continues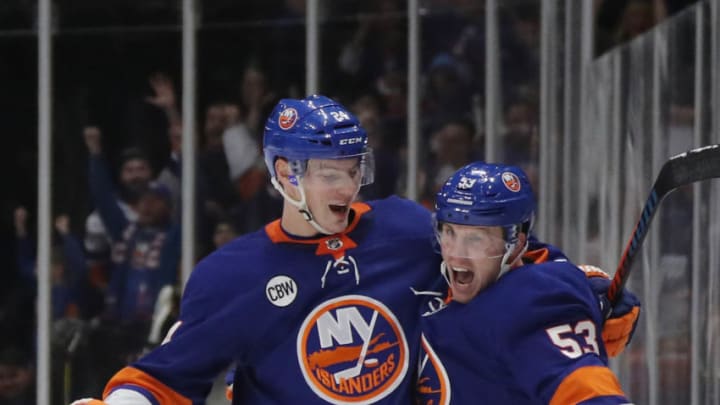 UNIONDALE, NEW YORK - FEBRUARY 28: Casey Cizikas #53 of the New York Islanders (r) scores a short-handed goal at 13:40 of the second period against the Toronto Maple Leafs and is joined by Scott Mayfield #24 (l) at NYCB Live's Nassau Coliseum on February 28, 2019 in Uniondale City. (Photo by Bruce Bennett/Getty Images)
Casey Cizikas' career year continued tonight for the New York Islanders. He netted his 18th goal of the season against the Maple Leafs.
Casey Cizikas is the best fourth line player in the sport. Go ahead and challenge me, find a better player on a fourth line other than the New York Islanders' Casey Cizikas. Not only does he play the game the right way for a checking liner but this year he is scoring.
Over the past two years prior to this one, Casey Cizikas has combined for 15 goals. For a fourth liner that's completely fine, you're expecting 15 goals in two years for someone who is a penalty killer and playing in the bottom six.
This year, in 56 games, Casey Cizikas has 18 goals. 18! Last year he had seven and he played in 64 games, which is eight games more than what he's currently played so far this season. It's been a good year for him but it's even more recent that the scoring has piled on.
Like I mentioned, he had seven goals last year. To put things in perspective in the last 12 games Cizikas has seven goals. It's truly unbelievable what he's been doing this year and it couldn't have happened to a better guy.
Zeeker was drafted by this team in 2009 and has been here ever since. Early in his career, he formed one of the best fourth lines in hockey history with Cal Clutterbuck and Matt Martin. After a couple of years apart they finally reunited and it looks fantastic.
The three of them are at their best when they're together. Matt Martin returning from Toronto is sneaky one of the best things to happen to this team. He, along with Cal, have played an integral part of Casey's strong season.
They've been the most consistent line on the team all year, and there's a reason why Barry Trotz starts with this line on a nightly basis. Casey has a real shot at 20 goals and 40 points. Who would've guessed that before the season?