Stanley Cup Playoffs
New York Islanders: Dougie Hamilton Gets Last Laugh On Brock Nelson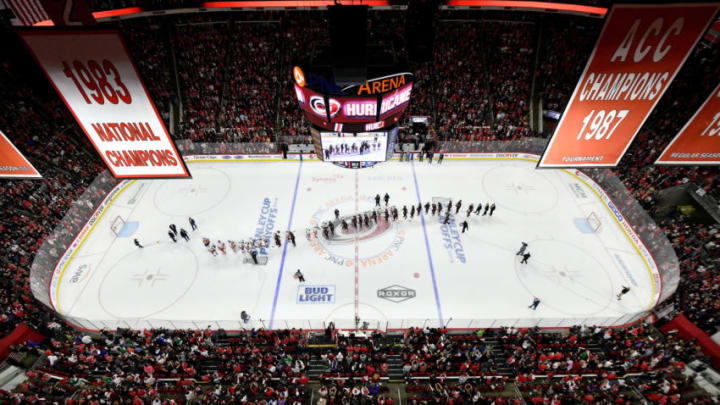 RALEIGH, NORTH CAROLINA - MAY 03: The Carolina Hurricanes and the New York Islanders shake hands after Game Four of the Eastern Conference Second Round during the 2019 NHL Stanley Cup Playoffs at PNC Arena on May 03, 2019 in Raleigh, North Carolina. The Hurricanes won 5-2 and won the series, 4-0. (Photo by Grant Halverson/Getty Images)
Brock Nelson tried to rattle Curtis McElhinney in Game 3 by tapping him on the head. Carolina got the last laugh over the New York Islanders.
This series went about as bad as possible for the New York Islanders. The Islanders lost in four games, the final game in embarrassing fashion, and on top of that Carolina made sure to rub it in on the Islanders on the handshake line.
For full context, we have to rewind to Game 3. Josh Bailey scored a goal to tie the game at two, and as Brock Nelson was driving by he decided to give Curtis McElhinney a tap on the head.
It's a move trying to get in the head of McElhinney. Brock, who is usually a pretty quiet and reserved individual went outside of his comfort zone on this one. For me, I don't love the move.
Now, I'm not saying that hockey players can't show any personality, the roboticness of hockey players can be frustrating at times, but doing this when you're already in a 2-0 series hole was a risk.
He and the Islanders needed to back this up. They did not. So, when the Hurricanes won and clinched the series last night Dougie Hamilton got the last laugh on Brock Nelson.
If you're Nelson you had to know this was coming. I don't hate the move at all from Dougie Hamilton. Nelson disrespected his goalie so he gave him a little tap back on the handshake line.
You could argue that the handshake line isn't the place for that, which is fine I guess, but when else would you have the opportunity to do it?
Brock Nelson set himself, and the team too, to get their faces rubbed into it. That's why if you're going to talk or do something on the ice, you better be able to back it up. Brock wasn't able to.