Bridgeport Sound Tigers
New York Islanders Waive Yannick Rathgeb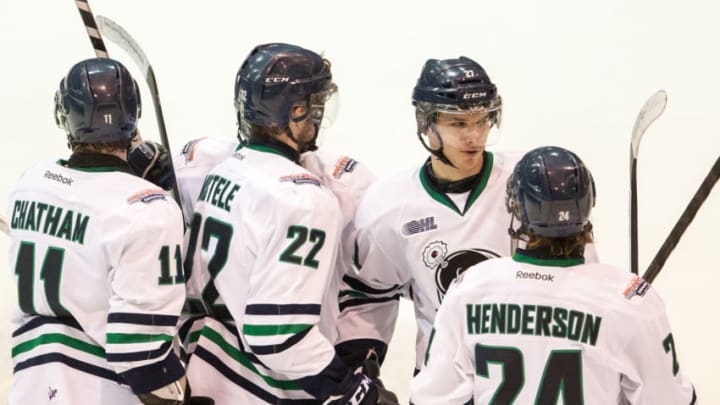 WINDSOR, ON - FEBRUARY 21: Connor Chatham #11, Matt Mistele #22, Mathieu Henderson #24 and Yannick Rathgeb #27 of the Plymouth Whalers celebrate a goal on the Sarnia Sting on February 21, 2014 at the RBC Centre in Sarnia, Ontario, Canada. (Photo by Dennis Pajot/Getty Images)
The New York Islanders have decided to part ways with defenseman, Yannick Rathgeb. Rathgeb spent one-year in the Islanders system.
Who? I'm sure that was the reaction from many when they heard that the New York Islanders waived Yannick Rathgeb. If you rewind to last June, the Islanders gave Rathgeb a two-year $2.75 million entry-level deal.
He's a right-handed shooting defenseman who was brought in for blueline depth in Bridgeport. This past year in the AHL, he played in just 32 games for the Sound Tigers. In those 32 games, he had nine points (4 goals, 5 assists).
He was okay, but not nearly talented enough to stay in the Islanders system that has loads of defensive prospects. So, the Islanders decided to waive Rathgeb, who will now likely head back to Switzerland to play hockey.
From 2015-2018, Rathgeb played in the NLA and was fairly productive for HC Fribourg-Gotteron. He averaged roughly 30 points a season in the three years he spent there with his best season coming in 2016-2017.
That year, he produced 34 points (11 goals, 23 assists). Unfortunately for Rathgeb, he was way too far down on the totem pole to make any kind of push for the NHL roster. He's better suited going back to the NLA to play in his home country.
Isles Tweet of the Day
https://twitter.com/NYIslanders/status/1128363699637555200
Our Stuff
Editorials: Trade Rumors Weekly Roundup
As the New York Islanders look to add quality to the lineup trade rumors become incredibly enticing. Here are some of the biggest rumors and speculations and how the Islanders could take advantage.
Editorials: Anders Lee 2018-2019 season grade
Anders Lee's first, and possibly only, season as New York Islanders captain has ended. He didn't score 40 goals this year, but his game improved elsewhere, and he still has things to work on.