New York Islanders: Players Who Never Panned Out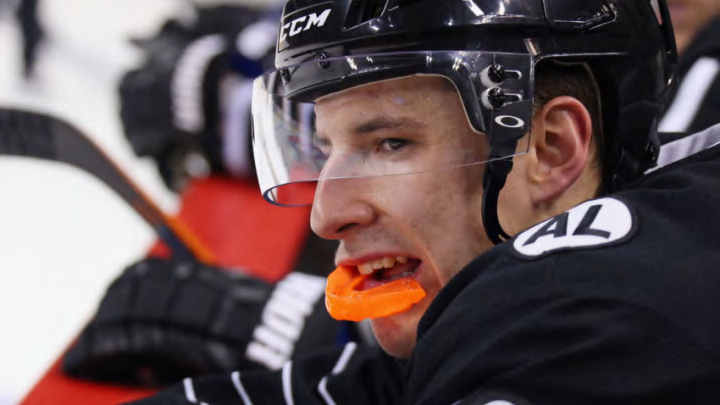 NEW YORK, NY - JANUARY 17: Ryan Strome #18 of the New York Islanders watches the action from the bench against the Vancouver Canucks at the Barclays Center on January 17, 2016 in the Brooklyn borough of New York City. The Canucks defeated the Islanders 2-1 in the shootout. (Photo by Bruce Bennett/Getty Images) /
FanDuel put out a viral tweet asking for random players that you thought would be good that never panned out. Today, we'll do a New York Islanders version.
Historically, there's been some duds that the New York Islanders both drafted and traded for. Players that you thought would be a good fit for the team, who never quite lived up to that expectation.
Yesterday, FanDuel put out a tweet asking fans for players who they thought would be good but just never made it. It got me thinking of some Islanders ones.
For me, my biggest one is Ryan Strome. Yes, he had a 50 point season in 2014-2015 but when he was drafted fifth overall I thought he would John Tavares' long-term running mate. That 50 point season proved to be an anomaly.
His point totals in the four years since then are 28, 30, 34, 35. Those are fairly mediocre numbers especially when you consider he was a top-five pick.
Another name that came up frequently from people was Jeff Tambellini. Tambellini was acquired from the Los Angeles Kings in the Mark Parrish trade. As a former first-round pick he struggled mightily in the NHL.
In parts of five seasons with the New York Islanders, he had 46 points in 176 games. His best season was a 15 point year in the dreadful 2008-2009 season.
Who are some other choices for Islanders that you thought would be good that just never made it? Comment below.
Isles Tweet of the Day
Our Stuff
Prospects: Bode Wilde named second-team all-star
Bode Wilde, New York Islanders second round pick in the 2018 NHL Entry Draft, was just named as an OHL second team all-star. Once again proving he was the steal of the draft.
Editorials: 5 options for the right side
With Cal Clutterbuck as the only RW the New York Islanders need a significant upgrade on the right side of the ice. Where can they look to get that help?