New York Islanders: Re-Drafting Class of 2009 NHL Entry Draft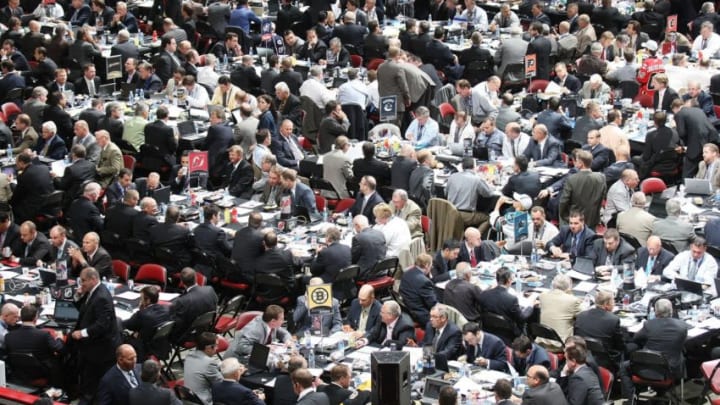 MONTREAL, QC - JUNE 27: An overview of the draft floor photographed during the 2009 NHL Entry Draft at the Bell Centre on June 27, 2009 in Montreal, Quebec, Canada. (Photo by Bruce Bennett/Getty Images) /
MONTREAL, QC – JUNE 26: (L-R) Team owner Charles Wang, General Manger Garth Snow, John Tavares, Assistant General Manager/Director of Amateur Scouting Ryan Jankowski and Pro Scout Mario Saraceno of the New Islanders pose on stage after the Islanders drafted Tavares #1 overall during the 2009 NHL Entry Draft by the New York Islander at the Bell Centre on June 26, 2009 in Montreal, Quebec, Canada. (Photo by Bruce Bennett/Getty Images) /
With the 2019 NHL Draft coming soon, here's a revisionist history look at what the New York Islanders did at the draft table ten years ago.
It's almost been ten years since the last time the New York Islanders drafted first overall (the fourth time in team history) in the 2009 NHL Draft. As we get close to 2019's draft day I thought it would be interesting to play revisionist history with the Isles 2009 draft class.
My goal was to look back at the Islanders 2009 draft picks and see if there was anyone better on the board that the New York Islanders could have and maybe even should have taken over the player they actually drafted.
What I'm doing here is looking at all of the Islanders picks from 2009. That means rounds one through six. I then wanted to find players available in that same round of the draft who turned out to be better than whoever the Islanders picked.
What I'm thinking is: Knowing what we know now, ten years later, should the Isles still take the same player?
For example, the Islanders selected Miko Koskinen with the first pick of the second round (31st overall). Was there anyone better selected later in the second round that the Isles should have taken with that 31st overall pick?
Sometimes there wasn't a better option for the Islanders. The player they took was the best option. In that case, I kept that pick as is.