New York Islanders: Re-Drafting Class of 2009 NHL Entry Draft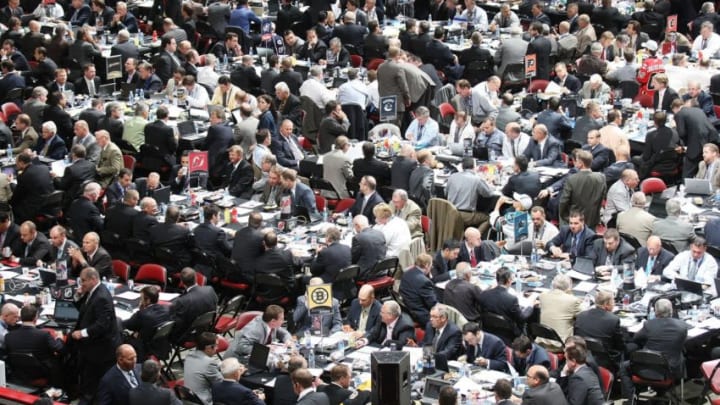 MONTREAL, QC - JUNE 27: An overview of the draft floor photographed during the 2009 NHL Entry Draft at the Bell Centre on June 27, 2009 in Montreal, Quebec, Canada. (Photo by Bruce Bennett/Getty Images) /
TAMPA, FL – JANUARY 27: John Tavares /
John Tavares (C)| Round: 1 Pick: 1
With the first overall pick, the New York Islanders took London Knights center John Tavares first overall. Tavares was the first player in OHL history to be allowed into the draft at 14 years old thanks to his 'exceptional status' (again, the first to be given that designation).
In four seasons between the OHL's Oshawa Generals and London Knights, Tavares scored 433 points in 247 games. He was, without a doubt, a special player.
And that's why the New York Islanders drafted John Tavares first overall in 2009.
This was a franchise that was desperately looking for a star player that could be their generational talent. They needed a guy to be their central figure. They needed a star player now, and well into the future. The Islanders were desperate for a guy just like Tavares.
But the question is: Knowing what we know now should the New York Islanders still draft him with the first overall pick? Absolutely.
The Islanders needed a star player like Tavares. Victor Hedman, the second overall pick, might be better in his position now but it took him a few years to get there. Hedman wasn't the player we know today until 2013-14 at the earliest. John Tavares had an impact immediately and every year after that for the New York Islanders.
So what about Matt Duchene then? The Brampton Battalion center was taken third overall. Should the Islanders have taken him instead of Tavares? We all know that Tavares was and still is the better player. So, no.
Even when playing revisionist history and knowing that Tavares fantasized about playing for the Toronto Maple Leafs one day, the Islanders should have taken John Tavares with the first overall pick ten years ago.