New York Islanders: Re-Drafting Class of 2009 NHL Entry Draft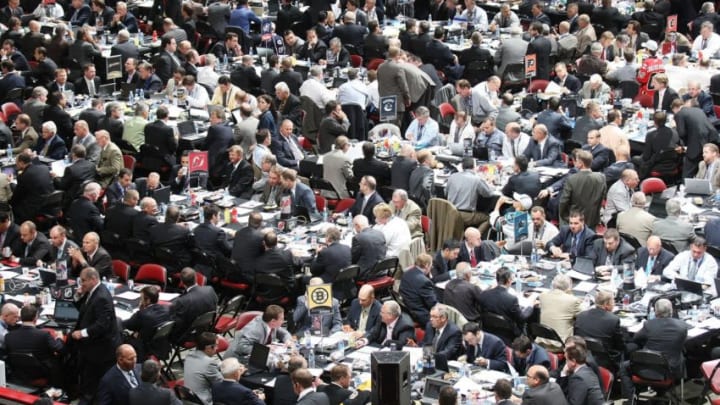 MONTREAL, QC - JUNE 27: An overview of the draft floor photographed during the 2009 NHL Entry Draft at the Bell Centre on June 27, 2009 in Montreal, Quebec, Canada. (Photo by Bruce Bennett/Getty Images) /
MONTREAL, QC – JUNE 26: Calvin De Haan of the New York Islanders poses for a photo after being selected #12 overall by the Islanders during the first round of the 2009 NHL Entry Draft at the Bell Centre on June 26, 2009 in Montreal, Quebec, Canada. (Photo by Jamie Squire/Getty Images) /
Calvin de Haan (D) Round: 1 Pick: 12 | Nick Leddy (D) Round: 1 Pick: 16
New York Islanders GM Garth Snow was very aggressive in moving back up into the top half of the first round in 2009. He already picked John Tavares with the first overall pick, and he wanted more. After a terrible 2008-09 season, the rebuild was on.
It started with a trade between the Islanders and the Ottawa Senators. The Isles got the Sens 26th overall pick and Dean McAmmond for Chris Campoli and Mike Comrie. Garth was now back in the first round. But he wanted to pick sooner than 26th.
The Islanders then flipped that 26th overall to Columbus (along with the 32nd, 67th, and the 92nd pick of the draft) for Columbus' 16th and 77th overall. And still, Garth wasn't done. He took that 16th and 77th overall along with his 182nd pick and sent it to Minnesota for their 12th overall pick.
Just in case that was dizzying, here's a breakdown of those trades in sequence.
The New York Islanders would take that 12th overall pick and use it to select Calvin de Haan.
Calvin de Haan, was, and still is a fine player. You can argue that the Islanders should just keep the pick. But when Nick Leddy was still on the board (ironically taken with that16th overall the Isles previously held), the Islanders should have gone with him. Leddy is the better player between the two. He's better offensively, he's better at carrying the puck, he's better on the power play.
Going over the draft again, the Islanders should have taken Leddy over de Haan.