New York Islanders: Re-Drafting Class of 2009 NHL Entry Draft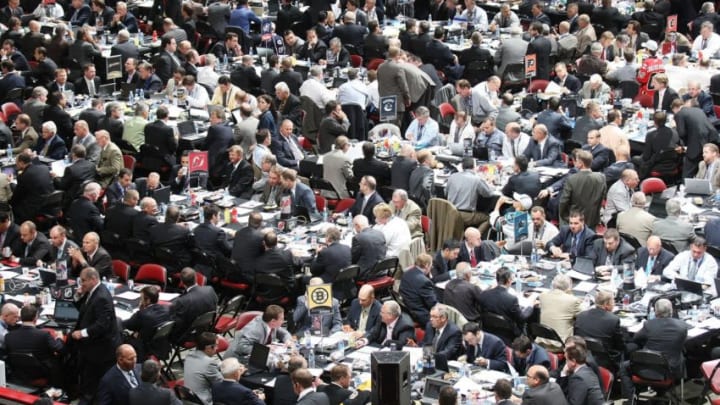 MONTREAL, QC - JUNE 27: An overview of the draft floor photographed during the 2009 NHL Entry Draft at the Bell Centre on June 27, 2009 in Montreal, Quebec, Canada. (Photo by Bruce Bennett/Getty Images) /
NEW YORK, NY – NOVEMBER 30: Casey Cizikas #53 of the New York Islanders skates against the New York Islanders at the Barclays Center on November 30, 2016 in the Brooklyn borough of New York City. The Islanders defeated the Penguins 5-3. (Photo by Bruce Bennett/Getty Images) /
Casey Cizikas (C) Round: 4 Pick: 92 | Craig Smith (RW) Round: 4 Pick: 98
There's an argument to be made here to keep Casey Cizikas instead of looking elsewhere in the fourth round. With 157 points in his NHL career, Cizikas is the fifth highest scorer in the fourth round. We also know just how well he fits with the Islanders as the fourth line center.
He's great on the forecheck, on the penalty kill, and now he's even a great goalscorer with 20 goals this last season.
But, in the name of talent maximization, there are other players in the fourth round that have produced more than Cizikas. Craig Smith has 299 points in his NHL career and scored over 20 goals across five different seasons with the Nashville Predators.
When looking at the production, Craig Smith is a better player than Casey Cizikas. But, Cizikas plays predominantly in his own zone.
In 2018-19, Cizikas started just under 67 percent of his zone starts in the defensive zone. And still scored 20 goals. For Craig Smith, 40.9 percent of his zone starts were in the defensive zone.
Arguably, if Casey Cizikas gets more offensive zone time, with offensive wingers he could produce more than his career high 33 points.
If you feel like the New York Islanders shouldn't look at anyone else but Casey Cizikas in round four, I get it. He's a great player who might even have untapped potential. But If we're looking to bring in a player that might be better (even just marginally) Craig Smith is him.