Editorials
New York Islanders: Simon Holmstrom Takeaways From Camp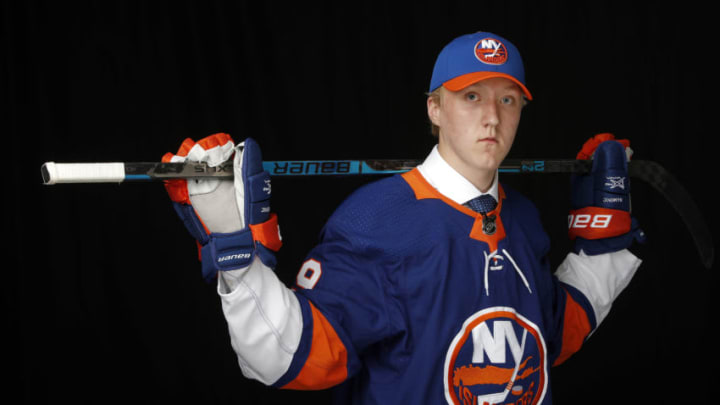 Simon Holmstrom poses for a portrait after being selected twenty-third overall by the New York Islanders during the first round of the 2019 NHL Draft at Rogers Arena on June 21, 2019 in Vancouver, Canada. (Photo by Kevin Light/Getty Images)
The New York Islanders first-round selection, Simon Holmstrom, tried to take away as much as possible from the Islanders developmental camp.
When the New York Islanders selected Simon Holmstrom 23rd overall in the 2019 draft, it came as a bit of a head-scratcher. Despite the apparent reach, Lou Lamoriello was quoted as saying Holmstrom was the unanimous pick if he was available.
He was available and the Islanders made no hesitation with selecting the Sweedish born winger. This past June, he made his first stop to Long Island for the Islanders developmental camp.
Here's what Holmstrom had to say on his experience:
""It has been unbelievable. I've really enjoyed it. I'm very grateful to be here," Holmström said of his first development camp. "I'm just trying to look and learn as much as I can, try to take in as much as I can. Take from the guys who have been here for a long time. Listen to the coaches.""
Holmstrom also went on to say that the Isles want him to develop his north and south game. That's expected from someone who is used to the bigger ice surface.
Simon Holmstrom will head back to play with HV71's J20 team in Sweden's SuperElit league. Last year, he had 20 points in 21 games with HV71.
Now, injury free, Holmstrom should show signs of growth in Sweeden before he is brought over to the AHL where he can continue to develop his game at the pro level.
Isles Tweet of the Day
Our Stuff
News: Beauvillier talks contract
New York Islanders RFA Anthony Beauvillier and his agent Phillipe Lecavalier talked to LNH.com about the possibility of a short-term deal with Isles. Hopefully, a short-term deal can motivate Beau to perform.
Editorials: Devon Toews ready to take the next step
In his first stint in the NHL, Devon Toews was extremely impressive for the New York Islanders. Here's why he can be even better next year.