Editorials
New York Islanders: Wrong Inscription Put On Robin Lehner's Masterton Trophy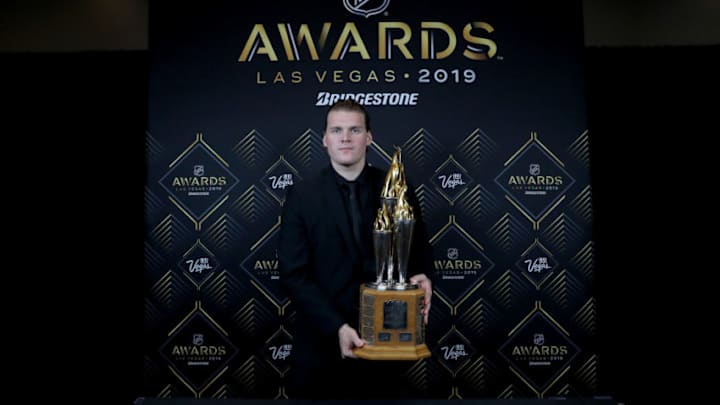 LAS VEGAS, NEVADA - JUNE 19: Robin Lehner of the New York Islanders poses with the Bill Masterton Memorial Trophy awarded to the player who best exemplifies the qualities of perseverance, sportsmanship and dedication to hockey during the 2019 NHL Awards at the Mandalay Bay Events Center on June 19, 2019 in Las Vegas, Nevada. (Photo by Bruce Bennett/Getty Images)
Former New York Islanders goalie, Robin Lehner won the Masterton Trophy at the NHL Awards. Apparently, they butchered the inscription for him.
Last year, Robin Lehner was terrific for the New York Islanders both on and off the ice. Almost a year ago now, an article appeared in The Athletic from Lehner talking about his struggles with mental health and addiction.
It made Lehner relatable, he's a star athlete but depression, anxiety, and addiction don't exclude athletes. Islanders fans welcomed him with open arms and the relationship was mutually beneficial.
On the ice, Robin was phenomenal. He went 25-13-5 with a .930 save percentage and a 2.13 goals against average. His save percentage and goals against average was good enough to get him in the top-five of both categories.
He finished third in Vezina voting, both he and Greiss won the Jennings trophy, and his inspirational story won him the Masterton Trophy. His speech was the highlight of the Awards show this year.
I've watched this speech probably four times and each time I get goosebumps. Absolutely amazing stuff out of Robin Lehner who took home this prestigious award. It was a great honor for him.
Today, the award came to him and there was a mistake on the inscription. Take a look for yourself:
https://twitter.com/RobinLehner/status/1160261832864608257
They put New York Rangers on it. This mistake can't happen on this award. Obviously, the NHL should replace it but it doesn't matter. It's such a slap in the face to everything Lehner did last year both on and off the ice.
It's a simple proofreading error that could've been so easily avoided. I know, no one is perfect and mistakes happen. Heck, there are times on this site where things go up with a typo.
It can't happen on the Masteron Trophy though. Lehner seemed to have a good sense of humor about it but the NHL should be embarrassed. This is a bad look.