NY Islanders News
New York Islanders: Simon Holmstrom's Hurt Again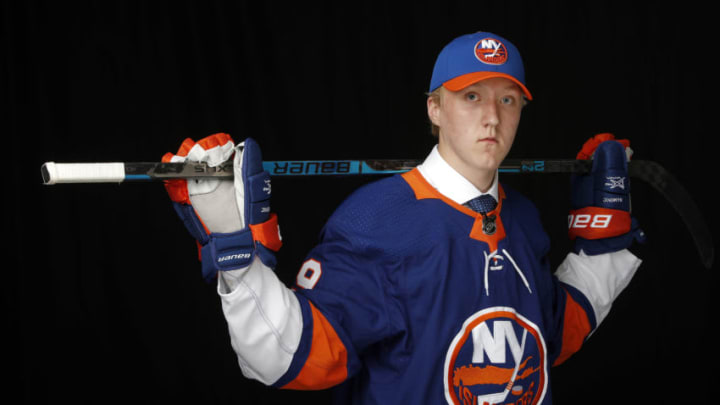 Simon Holmstrom poses for a portrait after being selected twenty-third overall by the New York Islanders during the first round of the 2019 NHL Draft at Rogers Arena on June 21, 2019 in Vancouver, Canada. (Photo by Kevin Light/Getty Images)
The New York Islanders reached for the injury-prone Simon Holmstrom in the first round of the 2019 draft. Holmstrom is again banged up.
When the New York Islanders drafted Simon Holmstrom, the hockey world collectively scratched their heads. Holmstrom, a talented prospect from Sweden, wasn't expected to go until the second round.
The reason for his drop wasn't because of talent, it was because of injury history. Before the 2018-2019 season, Holmstrom was forced to have hip surgery. He missed a good chunk of time because of that injury but it didn't stop there.
He also suffered a broken thumb and a concussion that kept him out for part of the season. He played in just 21 games in the for HV71 J20 in the SuperElit. While his numbers were good, 20 points in 21 games, his lack of play (and development) came into question.
The Isles pounced on him with the 23rd pick, adding depth to the winger position, when the team probably could've used the help at the center position.
Now, three months after being drafted, Simon Holmstrom is hurt again. He's listed as day-to-day with a lower-body injury. There are no details on what the injury actually is but it appears, at least now, it's not going to be a significant injury.
The concerning part is the potential of Holmstrom again missing time to develop. He can have all the talent in the world, but if he can't stay on the ice and grow his game what good is he?
Simon Holmstrom, despite his age, doesn't have a ton of games under his belt. The most he's ever played in a season (dating back to his U16 days) was 28 in 2017-2018 with HV71 J20.
I'd obviously like Holmstrom to stay healthy, grow his game, and prove me wrong, but I wasn't a fan of the pick at the time because of the injury risk. As of now, it's still early, it's been underwhelming.