Islanders All Time Lists
New York Islanders Best Player Drafted by Position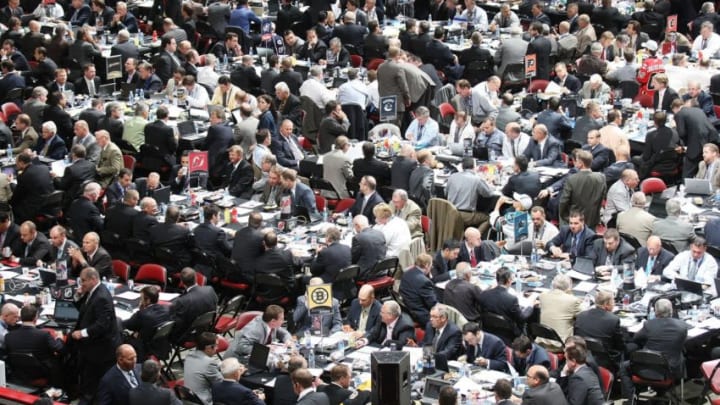 MONTREAL, QC - JUNE 27: An overview of the draft floor photographed during the 2009 NHL Entry Draft at the Bell Centre on June 27, 2009 in Montreal, Quebec, Canada. (Photo by Bruce Bennett/Getty Images) /
UNIONDALE, NY – JUNE 25: Fans cheer as Nino Niederreiter is drafted fifth overall by the New York Islanders during the Draft Day Party on June 25, 2010 at Nassau Coliseum in Uniondale, New York. (Photo by Mike Stobe/Getty Images for New York Islanders) /
The New York Islanders built their dynasty team through the draft. Naturally, they'll feature heavily in a list of all-time drafted players by position.
The New York Islanders have a storied history at the draft table. General Manager Bill Torry had a clear plan when it came to building the expansion Islanders in 1972; he'd build his team through the NHL entry draft.
He'd find the most talented youngsters he could find and get his hands on and form a team around them. And that's exactly what he did. Out of his entry draft picks came some of the greatest players to ever play the game.
Their skills would not only take the league by storm individually but as a collective, Torrey's group would dominate the league as a dynasty with four back-to-back Stanley Cup championships. Something that hasn't yet been repeated, and likely won't
In almost every position, "bow-tie" Bill was able to find elite-level talent and made a multiple-championship winning team out of them.
That's the power of the draft.
Position by position I go over the best pick made by the New York Islanders across their history.
Note: By "draft", I specifically mean the entry draft (or amateur draft as it was once called). I'm not talking about the 1972 expansion draft.