New York Islanders Best Player Drafted by Position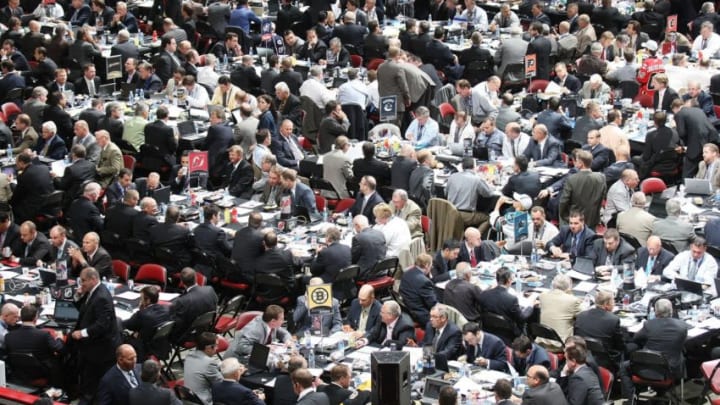 MONTREAL, QC - JUNE 27: An overview of the draft floor photographed during the 2009 NHL Entry Draft at the Bell Centre on June 27, 2009 in Montreal, Quebec, Canada. (Photo by Bruce Bennett/Getty Images) /
UNIONDALE, NY – APRIL 16: Clark Gillies #9 of the New York Islanders Alumni team laughs after tripping over the boards during the Hockey for Heroes 3 on 3 Hockey Tournament on April 16, 2005 at Nassau Coliseum in Uniondale, New York. (Photo by Bruce Bennett/Getty Images) /
Clark Gillies | Left-Wing
Like most of this list, it wasn't hard to pick out who was the best draftee for this position.
Taken fourth overall in 1974, Clark Gillies was perfect for the era. He was big, tough, mean, and he could score. In his draft year, Gillies scored 46 goals and 112 points for the Regina Pats. He also logged 179 penalty minutes along with that incredible production.
The 6'3″ 215lb winger could do it all at the lower ranks. Naturally, he could do the same in the professional ranks. That's what Islanders GM Bill Torrey thought.
Boy was he right.
While Gillies didn't score at the same rate he did in junior he was still an effective forward at the NHL level. His 304 goals are the most by any Islanders left-winger in franchise history by 93 goals (Derek King). His 663 points are also the most by any LW in Isles history but by a 119 point margin (John Tonelli).
During his time with the Islanders, Gillies became an integral part of their top line with Bryan Trottier and Mike Bossy. The three powered the New York Islanders to four straight Stanley Cup victories.
Gillies's power and toughness allowed the smaller Bryan Trottier and Mike Bossy to have more freedom to create on the ice.
It's why Clark Gillies is in the Hockey Hall of Fame. Not because of his production, but because of what he did to the role of the power forward. He completely reinvented the role.
Honorable mention: John Tonelli, Derek King