New York Islanders Best Player Drafted by Position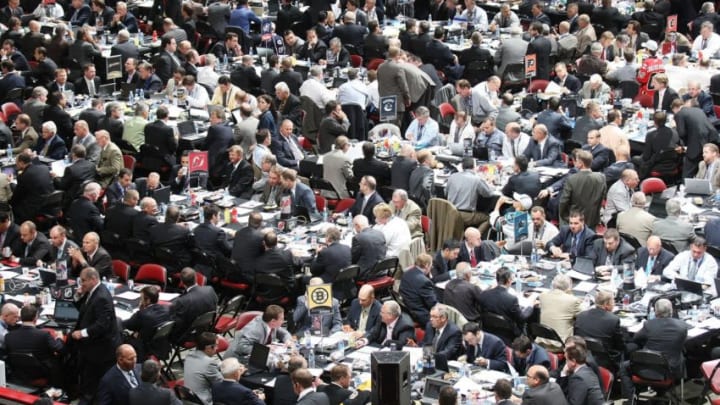 MONTREAL, QC - JUNE 27: An overview of the draft floor photographed during the 2009 NHL Entry Draft at the Bell Centre on June 27, 2009 in Montreal, Quebec, Canada. (Photo by Bruce Bennett/Getty Images) /
UNIONDALE, NY – JANUARY 16: The New York Islanders honored former player Bryan Trottier prior to the game against the Pittsburgh Penguins at the Nassau Veterans Memorial Coliseum on January 16, 2015 in Uniondale, New York. (Photo by Bruce Bennett/Getty Images) /
Bryan Trottier | Center
Bryan Trottier was a second-round pick. Just let that sink in for a second. Sure, back in 1974 a single round wasn't' as long as it is now. In 1974 there were 18 picks per round.
The Montreal Canadiens had five picks in the draft before Trottier was selected. California had three picks. Combine the production from those seven picks and it equals 1481 points. Bryan Trottier scored 1425 alone.
Trottier could do it all. Score. Set them up. Take over a period. Take over a game. Take over a series. Or take over an entire playoff.
He had six 100+ point seasons in his career with the New York Islanders. His 1353 points with the Isles rank at the top of the team's history books by a considerable margin for centers. In terms of points, John Tavares ranks second in team history with 621 points, some 732 less than Trottier.
It's without question that Trottier is the best center to be drafted by the New York Islanders. He's one of the best centers to ever play for the team. Heck, he's even one of the best centers to ever play the game.
His 1425 points rank 17th all-time in NHL history. His six Stanley Cup rings as a player are only matched or bettered by another 23 of the most elite players to ever play the game. Players like Henri Richard (eleven cups), Jean Beliveau (ten), or Mark Messier (six).
Trottier truly was one of the greatest to ever play. What an incredible steal to land him in the second round of the 1974 draft.
Honorable mention: Pat LaFontaine, John Tavares