Islanders: Best and worst draft classes of the 2000s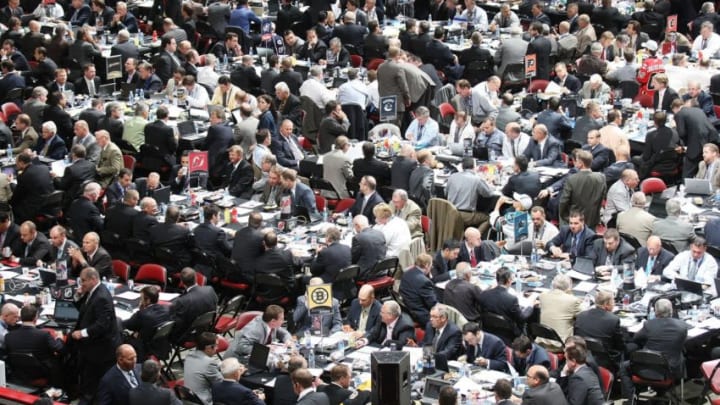 MONTREAL, QC - JUNE 27: An overview of the draft floor photographed during the 2009 NHL Entry Draft at the Bell Centre on June 27, 2009 in Montreal, Quebec, Canada. (Photo by Bruce Bennett/Getty Images) /
MONTREAL, QC – JUNE 26: (L-R) Team owner Charles Wang, General Manager Garth Snow, John Tavares, Assistant General Manager/Director of Amateur Scouting Ryan Jankowski and Pro Scout Mario Saraceno of the New Islanders pose on stage after the Islanders drafted Tavares #1 overall during the 2009 NHL Entry Draft by the New York Islander at the Bell Centre on June 26, 2009 in Montreal, Quebec, Canada. (Photo by Bruce Bennett/Getty Images) /
2006: A Third
Total games played: 899
Player with the biggest impact: Kyle Okposo (529 games)
The Islanders made 13 picks at the 2006 draft. Only five picks would ever see NHL time with the Isles. Of course, the player with the biggest impact was Kyle Okposo with 529 games played for the Islanders.
With a sixth-round pick, the Isles took defenseman Andrew MacDonald. It proved to be an inspired move by soon-to-be-replaced GM Neil Smith and his scouting staff. MacDonald would play 295 games for the Isles.
2008: Hitting on All Cylinders
Total games played: 2,072
Player with the biggest impact: Josh Bailey (865 games)
At the 2008 draft, the Isles once again found themselves with 13 picks. But unlike two years prior, the Isles hit on most of their picks. Chief amongst them was Josh Bailey.
The Islanders traded down to get Josh Bailey. Twice. They originally held the fifth overall pick (Luke Schenn) and then the seventh overall pick (Colin Wilson). While both Schenn and Wilson have put up solid NHL careers, neither has accumulated the number of games played or points that Josh Bailey has.
In the third round, the Islanders selected Travis Hamonic who played 444 games for the Isles before getting traded to Calgary to be closer to home. In the fifth round, they took Matt Martin who has 560 games played and is 1/3 of the best fourth-line in hockey.
2009: Era Defining
Total games played: 2,028
Player with the biggest impact: John Tavares (669 games)
Yes, the players from this draft class have fewer games played with the Isles than 2008. But just barely. At this point, I'm going to consider the class of players drafted compared to those selected in 2008 to differentiate between the two.
The 2009 class is clearly better.
John Tavares was a sure-fire first overall pick. His 621 points for the Isles ranks fifth all-time. He's a borderline superstar player. Eleven picks later the Isles picked Calvin de Haan who was a solid top-four defenseman for years.
Casey Cizikas, with 534 games played, is the beating heart of this team and the driving force behind the best fourth-line in hockey. He was selected in the fourth round of the draft.
Want your voice heard? Join the Eyes On Isles team!
In the sixth round, the Islanders selected a future 40 goal scorer and captain Anders Lee.
With Tavares, de Haan, Cizikas, and Lee, the Isles were able to create a new era of Islanders hockey. While Tavares and de Haan are gone now, both Lee and Cizikas are still here and are building yet another era of Islandesr hockey.